Addition of 'All Fours' boosts Mazda3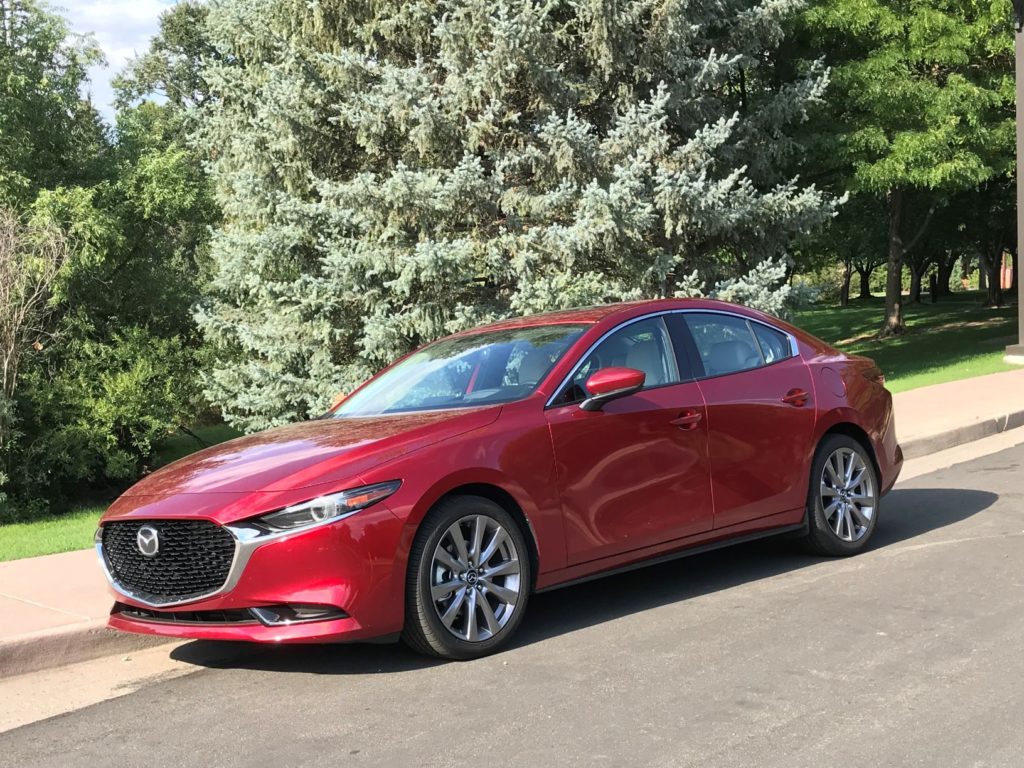 Mazda has tied a "down-to-earth" approach to its high-flying "soul of motion" design in an effort to save its compact sedan and hatchback, mired like all others of that ilk in an industrywide sales descent.
Aimed particularly at Colorado and other regions of less-than-favorable winter weather, the smooth, little Mazda3 has been equipped with an optional all-wheel-drive configuration.
The future of compact and midsize sedans is in question, as consumers are abandoning the traditional four-door cars in favor of SUVs and four-door pickups. Several once-popular model names are already gone or are scheduled for discontinuance.
The Mazda3, with its sleek styling, is consistently rated among the top three compacts in the country, yet its sales never match up against its Japanese competitors. By the end of July this year, sales of the Mazda3 totaled 32,174 far below Honda Civic's 198,339, Toyota Corolla's 183,503, Nissan Altima's 120,013 and Subaru's 35,913.
Colorado, with its mountainous terrain and winter snowfall, is prime country for four-wheel-drive and all-wheel vehicles.
Kaitlyn Dykstra, of Hill & Knowlton representing Mazda, presented a more positive position on the redesigned compact sedan: "While we aren't able to provide a specific number around the projection of sales, Mazda is continuing to move up towards the path to premium, introducing more premium features that help connect us with our fans."
I drove into Denver and back home on two occasions aboard the stylish Mazda3, finished in soul red crystal. On a wheelbase of 107.3 inches and curb weight of 3,255 pounds, it is a good handler offering fairly comfortable ride, responsive 186-horsepower 4-cylinder engine and 6-speed automatic transmission with sport mode and paddle shifters. It rides on Toyo 215/45R18 tires. Front struts and rear torsion beams are basics for its suspension system.
It's as elegantly finished inside as outside, with leather seating, moonroof and Bose premium audio/Bluetooth/Android Auto/Apple CarPlay. Adults might feel somewhat cramped for space in the rear seat, which is short of legroom. Trunk space is only 13.2 cubic feet.
Mazda's I-Activ all-wheel drive adds $3,000 to the base price of a front-drive model. Adding lane-departure warning, lane-keeping assist, rear cross-traffic alert and radar cruise control with stop-and-go pushed sticker price on the review model to $30,930.
The AWD adds a couple hundred pounds to the Mazda3, for which the 2.5-liter, 4-cylinder averaged 26.9 miles per gallon. Its EPA estimate is 25-33, and I've averaged more than 30 mpg previously with Mazda3 models. My overall average last week was lowered with lots of in-city (Denver) maneuvering.
The Mazda3 is built in Hofu, Japan. The company's best-selling model by far is the CX-5 compact crossover.
Though the AWD opportunity will have little effect on Mazda3 sales in warm-climate areas, such as Phoenix and Los Angeles, the boost in Colorado might lift Mazda total sales past BMW and Kia into 12th place from 14th in this state.