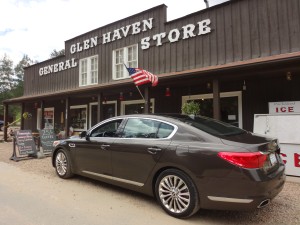 I walked into the Colorado Convention Center one evening 3 ½ months ago, opening night of the Denver Auto Show, and far to my left, beyond the spacious Chevrolet display, was a long, sleek-looking sedan with a Jaguar-like grille.
It was no Jag, and I asked of those around me, "What is that beauty?" A clue to the answer was the fact it sat at the front of the Kia space at the show.
It was Kia's new luxury car, the K900, aimed (believe it or not) at those European premium luxuries the Mercedes-Benz S550, BMW 740i and Audi A8, as well as Lexus' flagship, the LS460.
My word, that's a big step for the little Korean carmaker. Would you buy a $66,000 Kia?
I didn't buy it, though I drove it last week, with Jan in the passenger seat beside me, up Big Thompson Canyon to Estes Park. This big, rear-wheel-drive, V-8-powered, 200-inch-long four-door handled the climb and the curves like it was on familiar home territory.
On the descent, I kept the revs high and the gears low, not with paddleshifters (there are none) but by pushing the Drive Mode button for more sporty settings and using the manual-shift gate.
Our return drive from Estes to Drake was via the Devil's Gulch Road, which with lots of twists and a couple of hairpin curves tested the K900's long wheelbase. The fully independent front and rear multilink suspension is soft, firmed up a bit with the sport setting. The comfortable sedan rides on Hankook Optimo P275/40R19 tires.
We stopped in Glen Haven, where the little community continues to rebuild from last fall's flood devastation. The general store, known for its 25-cent coffee and large cinnamon rolls, reopened in June. Of course we carried home one of the rolls, to be split for breakfast the next morning.
We've driven this road in the winter, and wonder if a drawback in these parts to the K900 might be its lack of all-wheel-drive capability. Even Jaguar has added that to the drivetrains in its large sedans.
Underhood in the Kia is a 420-horsepower, 5.0-liter V-8 which boasts 376 lb.-ft. of torque, mated to a smooth-shifting 8-speed automatic transmission. Kia officials hint that V-6 power will be added later in the 2015 model year.
The 4,555-pound sedan responds well to the big V-8, and carries an EPA fuel estimate of 15/23 miles per gallon. Dominated by the mountain drive, my overall average still registered around the 21 mark.
The K900 designation seems odd, in that all other Kia models are named – Cadenza, Forte, Optima, Rio, Sedona, Sorento and Sportage. Kia explains that Americans in the luxury market seem to prefer alphanumerical IDs, hence the K900. The K900's luxury sibling from Korean co-maker Hyundai is known as the Equus, so take your pick on those two designations.
Walk up to the model I drove with key pod in pocket, and the folded-in side mirrors automatically swing out into driving position. It is the most amenities-loaded Kia ever built.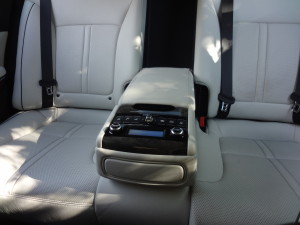 It has hydrophobic front door windows, rain-sense wipers, head-up display, rearview and surround-view monitors, smart cruise control, panoramic sunroof, power rear sunshade and manual side sunshades, three-zone climate control, navigation with a 9.2-inch display screen and 900-watt Lexicon Logic surround-sound audio system.
The rear-seating area is a delight, from its spaciousness to the rear passengers' controls for reclining the rear seatbacks, lateral-adjusting rear headrests, heated and cooled rear seats and, with push of a button, sliding the front passenger seat fore and aft.
It is finished in a rich-looking titanium brown exterior, with nappa leather and wood trim inside.
Here are the '15 Kia K900 specifications:
Wheelbase: 119.9 inches
Length: 200.6 inches
Width: 74.8 inches
Height: 58.7 inches
Curb Weight: 4,555 pounds
Track: 63.8 inches front, 64.1 rear;
Ground Clearance: 5.7 inches;
Turn Circle: 37.5 feet;
Drivetrain: Rear-wheel-drive;
Engine: 5.0-liter V-8;
Horsepower/Torque: 420/376;
Transmission: 8-speed automatic;
Fuel mileage estimate: 15/23; average 21;
Fuel Tank:19.8 gallons;
Wheels: 19-inch;
Cargo Volume: 15.9 cubic feet;
Warranty
5 years/60,000 miles basic,
10/100,000 powertrain;
Competitors:
Jaguar XJ,
Cadillac XTS,
Audi A8,
Lexus LS460,
Mercedes-Benz S550,
BMW 7 series;
Assembly Plant: Sohari, South Korea;
Parts Content: N.A.;
Price:
Base Price of Lowest Model $59,500;
Base Price of Review Model $59,500;
Destination Charge $900;
Sticker Price $66,400.