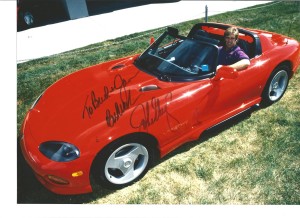 Twenty years ago this summer, in 1994, I interviewed John Elway regarding his Dodge Viper, one of 189 numbered models of the original Viper. Excerpts:
John Elway, owner of the ultimate performance car – a rare Dodge Viper – won't part with the car. He and Rod Buscher, his partner, will sell you a performance car – a Toyota Supra Turbo, a Nissan 300ZX or a Mazda RX-7. But the Viper? Forget it. Elway would sooner just buy a Dodge dealership then get rid of the Viper. Buscher said they really would like a Dodge dealership, or Ford or General Motors, "but these days there are few available."
The V-10-powered Viper is the quickest production car sold in this country. I've not driven one; the quickest I've driven this year have been the Toyota Supra Turbo, the turbo-powered Saab Aero and the Chevrolet Corvette. Elway bought his Viper from Doug Moreland at Cherry Creek Dodge in 1992 when only 189 numbered models were sold. He's driven the car only 965 miles, "most of that has been taking the kids for rides," he said. "They (Jessica, Jordan, Jack and Juliana) really enjoy the car." Elway's main means of transportation is a Mercedes-Benz 500SEL four-door. His wife Janet switches between a Mazda MPV minivan and a Toyota Camry wagon.
Elway, the top quarterback in the National Football League, said he tries to spend at least two days a week at his dealerships. "With my other commitments, that's about all I can do and still have time for my family," he said. We didn't talk football, but at the end of our conversation when I suggested we cover some ground, he in his Viper and me in the Corvette I had borrowed, Elway said: "I'll pass."