Memories from the Ford Garage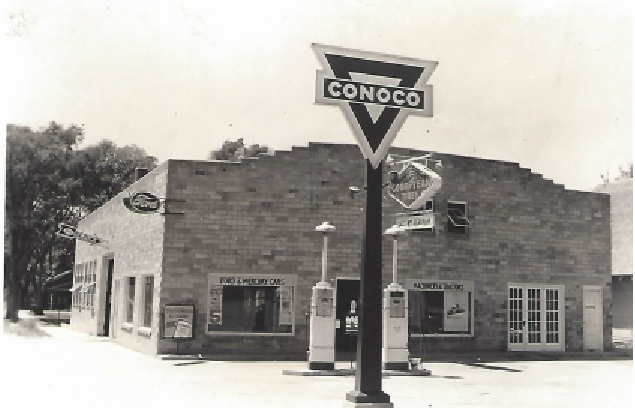 I spent part of a day in my old hometown in July, stopping first at Bonanza Ford, the building of which was constructed in 1943 when my dad, Dale Wells, was the Ford dealer. Bob Bledsoe, current owner of the business, was out of town on a big-game hunting trip; I enjoyed very much visiting with Gary Soehner, sales consultant at Bonanza, and Pete and Katie Brophy, customers in the showroom that morning.
Accompanying me in the drive was Tim Coy, who spent 17 years as page designer for my automotive columns in Denver newspapers. We met Joe and Madeline Conrad for lunch at the Mill Race Creek Grill. Joe and I were classmates at Wray until I moved to Sterling for my freshman year in high school.
Joe Conrad's grandfather, James Quincy Conrad, who came to Idalia in 1893, was granted the first exclusive Ford agency in Yuma County in the days of the Model-T. The garage he built and operated in Wray was sold in 1928 to Clarke Smith and Jack Kearns, who were Ford dealers until their business was destroyed by fire in the early 1930s.
After opening a repair shop in the early '30s, my dad, Dale Wells, soon became the local dealer for Chrysler/Plymouth cars and International pickups. He operated the dealership from what was referred to as "the Stedwell building" at the lower, north end of Main Street near the railroad tracks.
With no resumption of the fire-destroyed Ford business, Dad added the franchise for Ford/Mercury cars, Ford trucks and Ford tractors later in the '30s. He purchased in 1942 the property where the Ford business stands today, and in 1943 the Dale Wells Ford Garage building was completed, with Cliff Carson as general contractor.
After Dad was killed in a car accident in 1946, the dealership was operated by son, Gene Wells; Clair Muller, a brother of Lenna Wells (Dale's widow), and Bob Davis, who had worked with Dad since his first repair shop at Wray.
The original F1 pickups were sold to farmers in the Wray area by Dale Wells Ford Garage. I was only 11 when the F1s began arriving in 1948, but I had a boy's keen interest in the dealership; bookkeeping records of the family's dealership are in my possession.
Townspeople didn't drive pickups in those days; only farmers bought them. Thus, car sales far outnumbered pickup sales.
Among four sales of new pickups in 1948 were $1,482.70 for an 8-cylinder Ford pickup of 114-inch wheelbase to Marvin Higgins of Eckley; $1,449.40 for a 6-cylinder to Hazel Jewell of Wray; $1,499.30 for a 6-cylinder to Ed Renzelman of Wray, and $1,490.60 for an 8-cylinder to Pershing Devore, who earlier in the '40s endured the Bataan Death March in World War II. He was from Vernon.
The consistency of the pricing is explained by the lack of options in those days. Among the few options available were the passenger-side windshield wiper and passenger-side taillight.
Mercury for 1949 unveiled an attractive restyling; the first one to be shown in Dale Wells Garage was a station wagon, purchased by David M. Grigsby, the local banker. He paid $3,000. A year earlier, S.C. Greenfield bought a new '48 Ford Super two-door, 6-cylinder, for $1,722.87.
Three new 1950 Mercurys were delivered to the garage in late November 1949. My mother, Lenna Wells, bought one on Nov. 29, J.S. "Junior" Parker bought another the next day, and later into December, Bernice Henry, wife of Rexall Drugstore owner Dean Henry, bought the third one. Sticker price on each was around $2,340. The 1950 Mercury, sized between Ford and Lincoln, was on a 118-inch wheelbase and powered by a 255-cubic-inch (4.2-liter) flathead V-8.
The garage also sold new Ford 8N tractors during those years. Pete Brophy recalled his father purchasing a new tractor from my dad for $700 in 1941. Bookkeeping records in 1948 showed price of a new 8N, sold to D.A. Simmons, had risen to $1,350.
The family sold the dealership to Larry Palmrose in August 1950; the current owner, Bob Bledsoe, purchased it from the Palmrose family. Richard Jeurink, until his retirement several years ago, was a partner in the business with Bledsoe.