AEV toughens Chevy Colorado Bison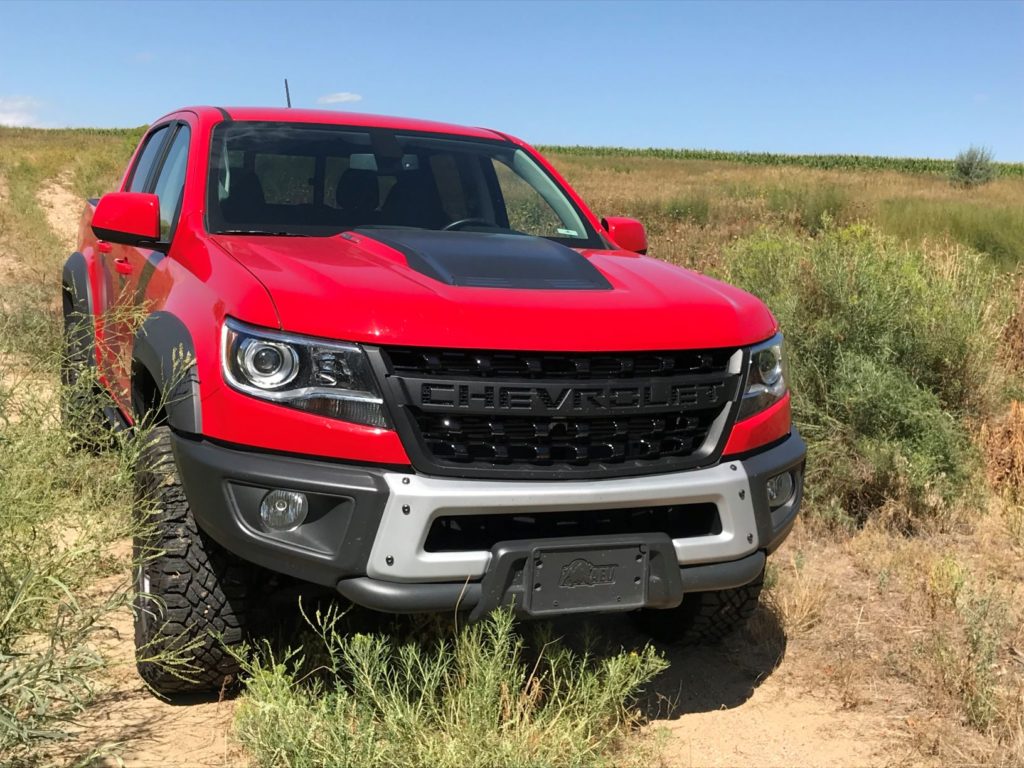 It was a heckuva good week with the 2019 Chevy Colorado ZR2 Bison before dropping it off in late August at a breakfast gathering at Woolley's Classic Suites in Aurora, then teaming up with the Rocky Mountain Automotive Press in its annual summertime "driving experience," this time toward Cheyenne Mountain.
Don't be misled by the "AEV" moniker on the Colorado's tailgate. This is no "electric vehicle." The badge's AEV initials represent American Expedition Vehicles, an offroad-accessory company which has helped custom-build 4X4s for 20 years.
Topping off the well-equipped Colorado ZR2 Bison turbodiesel pickup with AEV hot-stamped Boron steel front and rear bumpers and skid plates, along with AEV wheels and wheel flares, lends the Chevy offroad competency alongside the Jeep Wrangler Rubicon.
The Bison lines up as a competitor of another new Jeep offroad star, the Gladiator pickup, which went on sale recently.
American Expedition Vehicles is headquartered in Missoula, Mont., and operates a manufacturing facility at Wixom, Mich. Most of its 4X4 enhancement have been devoted to Wranglers and Ram pickups, before linking up with Chevrolet on the Colorado pickup.
The aggressive-looking Bison, which is 31/2 inches wider and 2 inches taller than a standard Colorado pickup, is powered by a turbocharged 2.8-liter, 4-cylinder, Duramax diesel. The turbodiesel develops 369 lb.-ft. of torque with 186 horsepower and is tied to an 8-speed automatic transmission with manual-mode shifting. It is noisier than the bigger turbdiesels used in the full-sized General Motors, Ford and Ram pickups. An optional engine is a gas-powered 3.6-liter V-6 rated at 308 horsepower and 275 lb.-ft. of torque.
One evening, Jan accompanied me in the Bison to the Pepper Pod restaurant in Hudson, where we joined Richard Johnson, Dan and Jamie Johnson, for dinner. Dick and I worked together at The Denver Post many years ago, including several years in the early '70s at side-by-side desks as assistant city editors. At 93, Dick is living with his son and daughter-in-law in the Denver metro area.
A couple days later, away from the highway driving in soft dirt, then deep ruts from much use and a steep climb, I briefly tested four-wheel low range, which is controlled by a dial from two-wheel high to automatic four-wheel, four-wheel high and four-low.
Overall fuel-mileage average for the Chevy was 20.9 miles per gallon; the EPA estimate with the diesel is 18/22.
Accessing the Bison interior requires a high, 25-inch step-in; it had no step rail. Once inside, the midsize truck rides fairly comfortably, even with the beefed-up spring rates and shocks.
Built in Wentzville, Mo., the Colorado 4X4 ZR2 Crew Short Box pickup is base-priced at $43,995. Adding the Bison/AEV packages cost an extra 5,750 and the Duramax turbodiesel added $3,500 for a sticker value of $53,245.