Back then. . . . .'78 New Yorker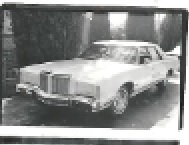 (Forty-two years ago, in the spring of 1978, I reviewed in The Denver Post the '78 New Yorker, the last big Chrysler. Excerpts:)
If you get the opportunity, take a drive in the 1978 Chrysler New Yorker. It could be last chance to ride in a really big Chrysler – a company spokesman says next year's model will be smaller and almost 1,000 pounds lighter.
The New Yorker, one of the oldest and most prestigious model names in the auto industry, offers an outstanding ride on the highway.
The ride and handling in the 4,800-pound four-door hardtop I tested was as good as expected, and I also liked its exceptionally straight and sure braking, comfortable leather seating and an impressive stereo system.
The car had a slight leak from its 26 ½ -gallon gas tank, and occasionally hesitated on acceleration in slow city driving.
Powered by a 440-cubic-inch V-8 with four-barrel carburetor it ran very strong on the highway and averaged 15 miles per gallon on a drive to Colorado Springs and back. Its average in city driving was about 8 mpg, affected some by the leak.
Roger Mauro Chryslerville, 7200 W. Colfax Ave., provided the auto, which had only 22 miles on the odometer.
The New Yorker is less expensive than most large luxury cars in today's market – the fully equipped model I drove being priced at $10,724. Optional items added to the base price of $7,715 included reclining leather front seats, air conditioning, AM/FM radio with eight-track stereo tape, automatic speed control and white vinyl roof.
The New Yorker is on a wheelbase of 123.9 inches, with overall length of 231 inches. It is 79.5 inches wide and 54.7 inches high. The large trunk is of 22.2 cubic feet capacity. Turning radius for the car is almost 45 feet.