Midengine allows restyle of '20 Vette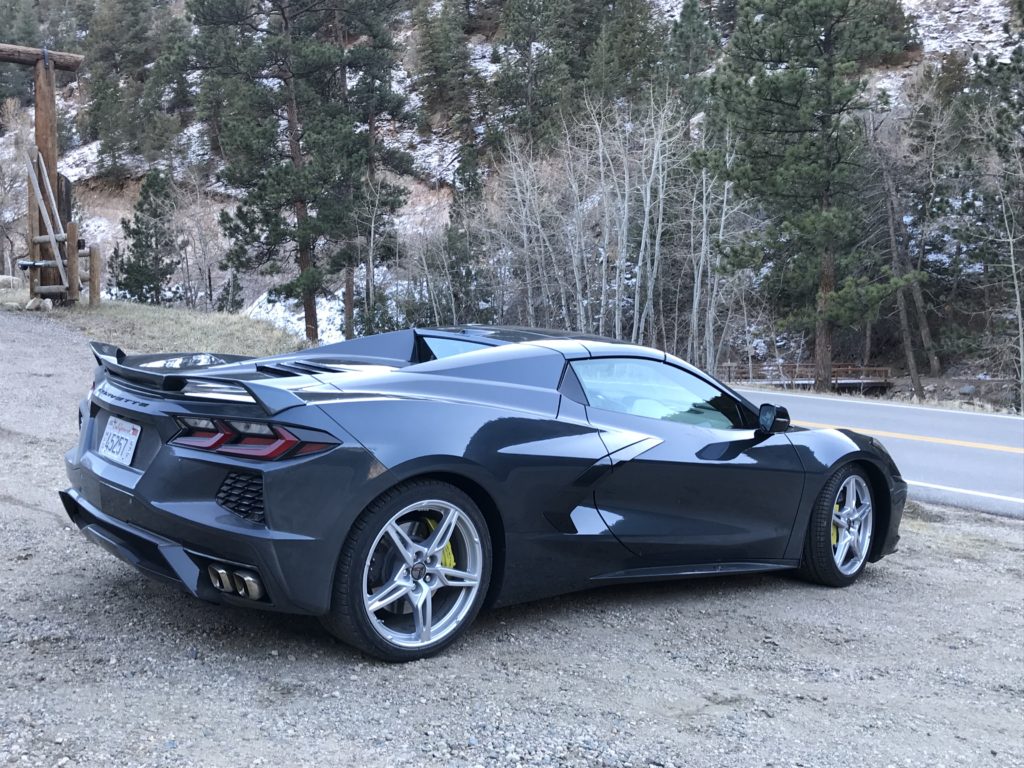 Moments after exiting the 2020 Chevy Corvette Stingray, parked beneath a light for a nighttime stop at a restaurant, a young man in a Silverado pulled up beside it, hopped out hurriedly and exclaimed, "Ah, the new Vette, it reminds me of a Ferrari, except it's better-looking than Ferrari."
That is high praise, indeed, and along the lines of dozens of comments tossed my way, elicited by the restyled Corvette convertible. To focus on the extreme angular lines, though, is to overlook the major transformation which permitted the radical redesign – a midengine layout after 67 years of front-engine build.
The midengine placement allowed designers to lower the hood, as well as instrument panel and steering wheel. Inspiration came from Formula One racing, hence the reference to Ferrari.
Production stoppages have hampered rollout of the 2020 model, including a worker strike, Covid-19 delays, recalls and a stop-sale order over an issue related to the electronic brake booster.
The new, 495-horsepower, 6.2-liter V-8 engine sits beneath a glass panel in the rear hatch, moving the driver and front passenger forward into some of the space previously occupied by the then-under-hood engine. The engine is mated to an 8-speed dual-clutch automatic transmission, another first-ever for the rear-drive Vette.
The C8 Stingray's low center of gravity and a Z51 performance upgrade provided excellent stability, emphasized by a drive we made to the west on U.S. 34.
I turned northwest from Drake onto County Road 43 to Glen Haven.
On the descent, with use of paddleshifters at the squared-off steering wheel, I locked the shifter in 3rd with revs high and the Vette low and secure into and out of the curves. Some handling capabilities were lessened a bit by removal of summer performance tires in favor of winter-weather shods. The snowflake imprint on the sidewall tells you that of the Michelin Pilot Alpin 245/35R19 tires.
Explaining the new midengine layout for the eighth-generation Corvette, General Motors president Mark Reuss said, "The traditional front-engine vehicle had reached its limits of performance." Equipped with the Z51 performance package, the Vette will run 0-to-60 in less than 3 seconds.
Among many other benefits are better weight distribution, improved driver position closer to the front axle with race-carlike view of the road, dual trunks (front and rear) for 12.6 cubic feet of space, enough for two sets of golf clubs and luggage.
As in years past, rear vision is limited. Precisely stitched soft leather is an interior highlight for the two-seater.
Most noticeable is a cascade of controls from the dashboard to the seat, separating the driver cockpit from the more tightly quartered passenger.
Pushbuttons for Park, Neutral and Low/Manual and pull toggles for Drive and Reverse make up the electric shifter. With a knob at the center console, the driver may select from modes of tour, weather, eco, sport and track.