Toyota Land Cruiser in final year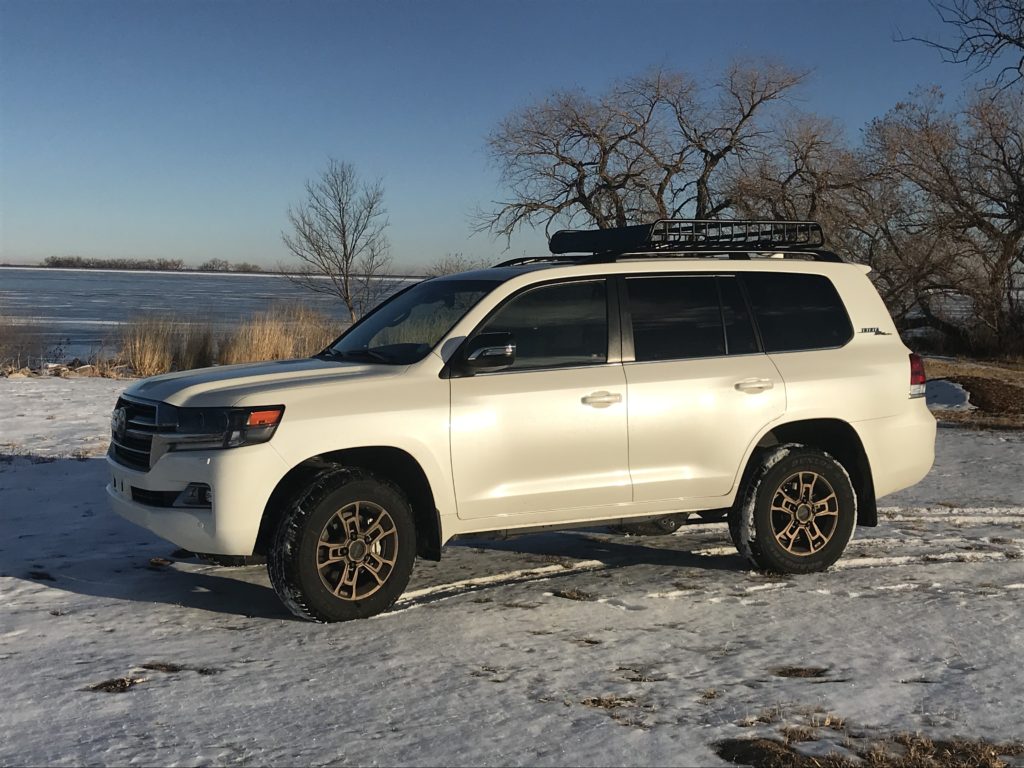 The Toyota Land Cruiser, a pinnacle of toughness in the U.S. for 60 years, will be discontinued at the end of the 2021 model year.
That the end of the line for the Land Cruiser is that imminent was confirmed in phone conversations with Bob Carter, executive vice president of sales for Toyota Motor North America, and Scott Vazin, group vice president and chief communications officer.
For a farewell in its final year, I drove a 381-horsepower, 5.7-liter V-8-equipped 2021 Land Cruiser Heritage Edition. The old-style SUV of rigid body-on-frame structure uses taut suspension – independent front with solid rear axle and coil springs. Its third-row seats, rather than tumble into the floor, are folded up at each side of the rear cargo area.
Development of the Land Cruiser began in early days of the Korean War, when American forces occupying Japan required additional heavy-duty vehicles to supplement their Jeeps. Toyota created a prototype known as Toyota Jeep BJ. The U.S. team went with another design, but Toyota continued to improve its vehicle, renamed it Land Cruiser, and the rest is history.
Toyota introduced its Land Cruiser to the U.S. shores in the late 1950s. It became a strong seller among SUVs for many years, competing with Jeeps and Range Rovers for "toughest" honors. With not a lot of modernization (the present generation dates back to 2008), sales began slipping as prices continued to rise.
Only 3,147 Land Cruisers were sold in 2020. Farmers, ranchers and outdoor equipment representatives are primary customers of the big vehicle.
Sticker price on the review model I drove climbed just past $90,000. There are luxury utes cheaper.
We drove the Land Cruiser out east into Morgan County and past small towns of Orchard, Goodrich and Weldona, before turning back and stopping at Jackson Lake State Park. We enjoyed a visit with Luke Stucker, senior ranger for the Colorado Parks and Wildlife at Jackson.
With 8-speed automatic transmission, the near-6,000-pounder cruises easily the 65- and 75-miles-per-hour highways and is equipped with full-time four-wheel drive for offroad detours. It rides on BBS alloy wheels and Dunlop Grandtrek 285/60R18 tires. In 4Lo range and crawl mode, the Land Cruiser will slowly move over or around most any ground obstruction.
The Land Cruiser's overall fuel mileage of 15.6 fell near the middle of its EPA estimate (13/17).
With its third-row seats folded, the Toyota's cargo area expands to 41.4 cubic feet. The rear liftgate can be fully opened or may be split, with only the upper portion being lifted.
Among other features for the final Land Cruiser are perforated leather seats, an inclinometer (angles of slope), a roof basket, navigation and JBL audio system with 14 speakers, subwoofer and amplifier, precollision system with pedestrian detection.
Final price on the Land Cruiser is $90,089. It is built in Aichi, Japan.