All-electric Mustang Mach-e slips onto trail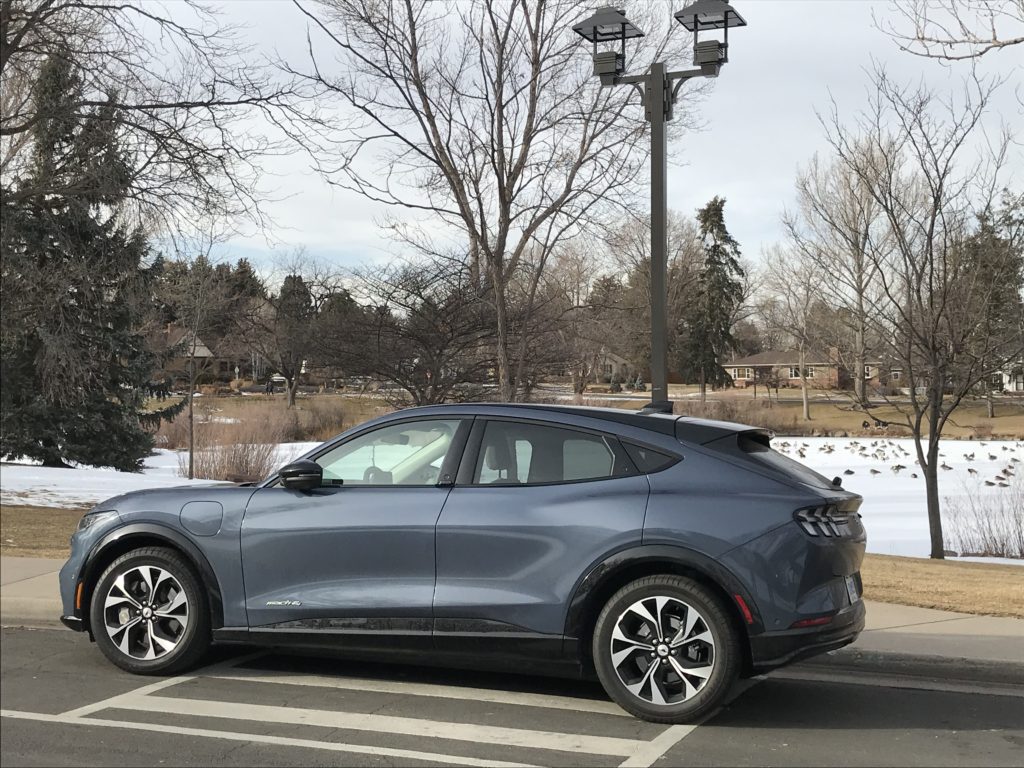 "Is it the electric Mustang?," I was asked dozens of times while driving the new Ford hatchback.
Yes, it's the 2021 Ford Mustang Mach-e4 all-electric crossover, which had only begun to reach Ford dealer showrooms by early in 2021.
The running-horse emblem front and back of the Mach-e seems to be the Mustang tipoff to other motorists and standby observers; the reaction was the strongest for a car or truck I've driven in a few months. Mustang is one of the most readily recognizable model names in the auto industry.
Though it links to the model name Mustang, this pony car is all-different, in addition to all-electric.
From the moment of approach at the driver's door – pushing a button for opening the door, slipping into the seat and being messaged, "58% and 82 miles of range available," it's a new ballgame.
The standard Mach-e AWD comes with an 88 kWh battery pack with 288 lithium-ion cells in a waterproof case beneath the floor between the crossover's front and rear axles.
A 255-horsepower permanent-magnet electric motor powers the rear wheels. A second motor is added to the front axle to create the all-wheel-drive capability; total horsepower is 332. Power is distributed independently to each axle as needed. The single-speed transmission is smooth and the Mach-e4 performed with good control on snow and ice. The lengthy battery pack adds to platform stiffness and the ride is somewhat rigid and rough at times.
Ford has projected a range of 211 miles for the standard Mach-e4; blame the cold, perhaps, but the review model provided to me showed a range of 160 miles after being fully charged. The electric Mustang performed well in a drive from Greeley to Aurora and back. The early-morning start in 15-degree weather cost us a few miles of range, but by the end of the drive there and back, the 110-mile drive reduced the remaining range by only 101 miles.
While in Aurora, after lunch with grandchildren Hannah and Mike McKenner, we pulled briefly into a charging station, where Dolores Trimble of Vail was restoring energy in her Kia Niro EV. She's had months of experience at recharging her all-electric Kia and having driven internal-combustion Mustangs in past years, was quite interested in the new look.
Three drive modes offered are Whisper for calm performance with gradual acceleration, Engage for a balance of response and comfort, Unbridled for a sporty feel with increased throttle. Most noticeable difference is in One Pedal Driving feature, in which regenerative braking slows the vehicle down as you lift your foot from the accelerator pedal, very useful in stop-and-go traffic. The slowdown eliminates much of the need for brake-pedal use.
Ford said sticker price on the Mustang Mach-e AWD is $51,200. Purchasers are eligible for a federal tax credit up to $7,500.
I found the panoramic glass roof very comfortable; Ford said a special coating is designed to help keep interior cooler in summer and warmer in winter. Midsummer will tell.
My first drive of the Mustang electric was to the Evangelical Free Church in Eaton for the funeral of Keith L. Brumley, 58, a friend of the family. No sooner had I parked in the church lot than the young man who pulled his pickup in the space beside us jumped out and wanted to know all about "the electric Mustang."
The Mustang, a foot longer than the Niro at the charge station in Aurora, is on a wheelbase of 117 inches, with 184 inches of overall length and curb weight of around 4,800 pounds. Recharging is as slow as 3 miles per hour with 110-home outlet, twice that fast with 220 and 45 minutes to an hour with some quick-charge stations.
Among rivals for the Mach-e4 are the Tesla Model Y, Audi e-tron, Volvo's Polestar 2 and Volkswagen ID.4.
Ford is also offering the Mach-e with rear-wheel drive and an extended-range, 98.8-kWh battery pack and a 282-hp electric motor delivering 300 miles of range. The eAWD extended-range version using two motors generates 332 horsepower, and can travel 270 miles on a charge.
Also being developed are a Mustang Mach-e GT and GT Performance Edition boasting 459 horsepower and 612 lb.-ft. of torque.
An alternative to a traditional intelligent access key fob is Phone as a Key, a smartphone for the key, turning the vehicle on and off remotely, unlocking and locking doors, opening liftgate, driving the vehicle.