Audi SQ5's new Sportback aimed at Benz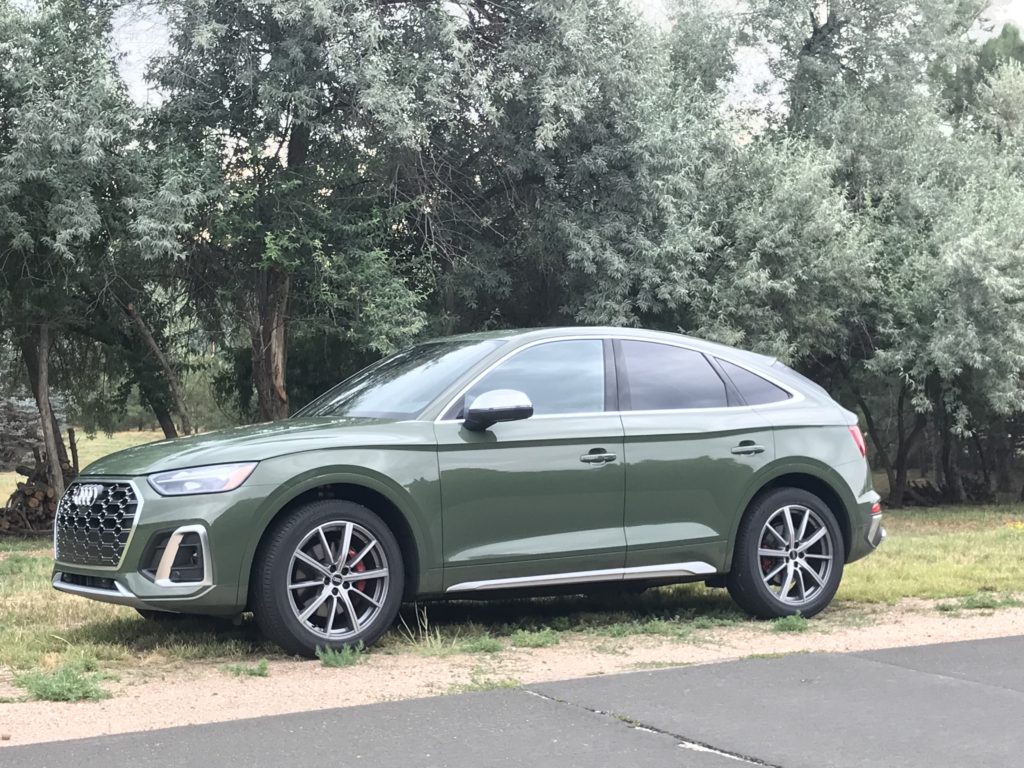 One of the more outstanding compact SUV crossovers in the luxury field is the Audi Q5; a step above that one is the SQ5 by the same builder, which for 2021 has added an all-new variant called the Sportback.
Once known for its supercharged power, the SQ5 the past two years uses a turbocharged, 3.0-liter V-6 of 349 horsepower, mated to an 8-speed Tiptronic automatic transmission with all-wheel drive. It is one of the smoothest accelerations of anything I've driven this year.
It showed up in my driveway with a new color – district green, a beautiful hue for green, which is making a comeback this year in color popularity (another new color is ultra blue). It also sports a new grille. On the inside, it is dressed up with fine Nappa quilted leather seats and entertains with Bang & Olufsen sound.
The turbocharged Audi carried me and passengers Jan, Kim Parker and Kathy and Bill Allen in a rainstorm on a Saturday evening to McGregor Square, the Monfort Rockies' recently opened city-block hotel/restaurant/outdoor plaza development across from Coors Field. We enjoyed Carmine's Italian dining; outside the windows the Rockies were defeating the Padres in San Diego on the big screen. We appreciated, too, an informative visit with a manager, Jessica Imhoff.
I was at the Detroit Auto Show in 2003, when Audi unveiled its 1st SUV concept and called it the "Pikes Peak Quattro." Coloradans were thrilled with name choice of the famed hill-climb peak, though when it reached production stage two years later as an '06 model, it carried the designation Q7. Nevertheless, the Q7 and the Q5 three years later have established a strong presence in our state.
With its coupe-like sloping roofline, the '21 SQ5 Sportback competes with the BMW X4 M40i, Mercedes-AMG GLC43 Coupe, Porsche Macan S and Infiniti QX55.
The Sportback is a superb handler, adjusts to road imperfections on the fly with standard adaptive suspension and offers air-suspension adjustment of the vehicle's ride height. It rides on 20-inch wheels with red brake calipers. Though the engine and transmission are European-built, the Audi is assembled in San Jose Chiapa, Mexico.
On a wheelbase of 111 inches, the SQ5 is 184.8 inches in overall length, 74.5 inches in width, stands 65.5 inches high and is 4,288 pounds in curb weight. Ground clearance is 8.2 inches.
Its 349 horses run 0 to 60 in 4.7 seconds, with top speed of 155 miles per hour. Its EPA estimate is 18-24 mpg; my overall average was 20.2.
A long list of high-tech options raised the Sportback's price from a base of $56,100 to sticker of $66,640.
Active lane assist kept the SUV most often in center lane, even on fairly sharp curves. Among other options were active cruise with traffic-jam assist, power-folding exterior mirrors, phone box, heated steering wheel and top-view camera system. Add to the list an optional sport rear differential to guard against understeer in cornering; a panoramic sunroof and three-zone automatic climate control.