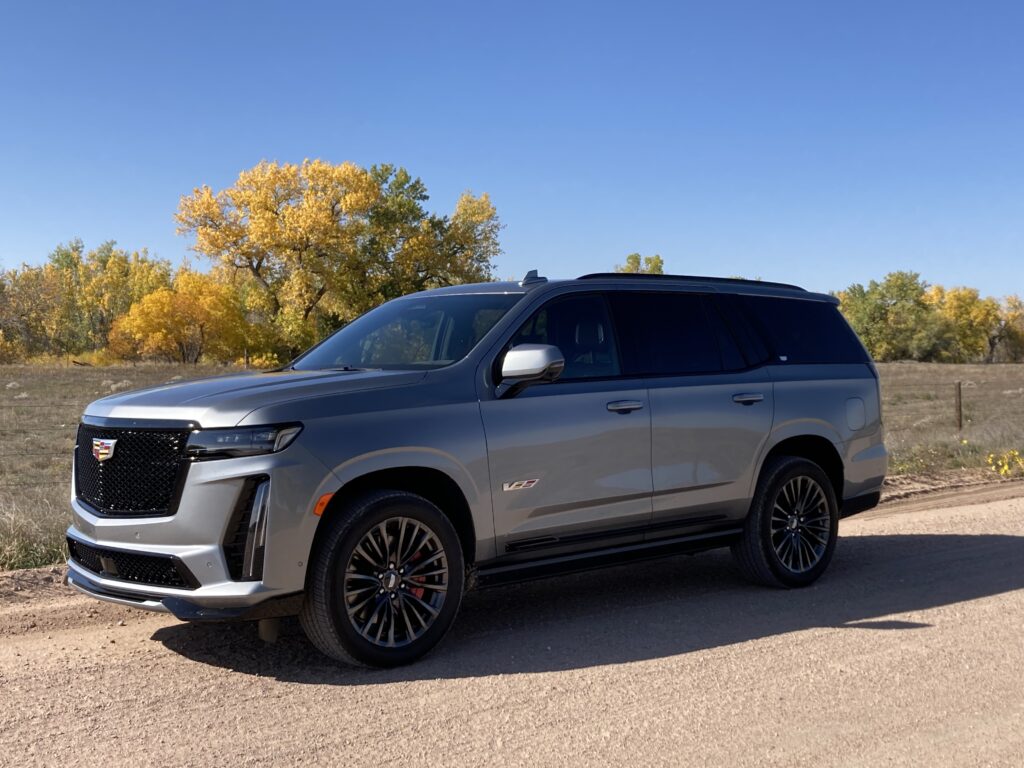 Leisure time on a beautiful October Sunday was aboard the swankiest American automotive product I've driven – the 2023 Cadillac Escalade V-series.
Swanky and pricey; in fact, at $150,580 it is the highest-priced U.S.-based luxury model to come my way.
I've driven a dozen or more luxurious, exotic models priced between $150,000 and $400,000, but they've been from British, German and Italian car builders.
The most expensive U.S. products, prior to the Escalade V-series, have been a '21 Cadillac Escalade with Super Cruise at $113,065; an '18 Lincoln Navigator Black Label edition at $98,145; the '22 Ford F150 Lightning Platinum Electric pickup at $94,004 and '21 Ram TRX pickup at $87,370.
In this transitional year – beginning phaseout of many internal-combustion-engined vehicles and introduction of all-electric smoothies – Ford races ahead with its Mustang Mach-E and F150 Lightning electrics, while Chrysler/Dodge/Ram/Jeep offer final-year specials on Hellcat-type and Hemi-power stars.
Cadillac is following the latter's lead with phenomenal performance from a hand-built, supercharged 6.2-liter, 682-horsepower V-8 engine mated to a 10-speed automatic transmission and all-wheel drive in the Escalade V. I remember the V-series of 10 or 12 years ago, among my favorites.
This new one is of 653 lb.-ft. of torque. From the side, the Escalade casts a huge presence, not only from its overall length of 212 inches, but also its 6 ½-foot height and curb weight of 6,200 pounds. It rides on 22-inch wheels.
Our son Brent joined Jan and me in the drive to Sterling to visit my ailing sister, Norma, and others of the Wagner family. The big Escalade beast cruised the 210 miles there and back at 17 miles per gallon. Overall for the week, it posted 15.7 mpg; its EPA estimate is "gas-hog-labeled" 11-16. Cadillac claims the "V" will run 0 to 60 in 4.3 seconds; the roar it creates from quad exhaust pipes is reminiscent of glory days of V-8s and muscle cars.
The ride is soothingly smooth, a benefit of the air ride adaptive suspension, which can be lowered 2 inches or raised an inch from normal. An interior feature is Cadillac's Conversation Enhancement system, which utilizes some of strategically placed 36 speakers in regular conversation to amplify voice of person talking and transmit to persons in another row of the SUV. Turn it off for nap time. Some hands-free autonomous driving is permitted with Cadillac's SuperCruise, which includes lane-keep assist.
Among interior highlights are zebra wood accents, semi-aniline leather on seats, power massage on front seats and heated steering wheel. Others are OnStar services,16.9-inch diagonal infotainment/navigation screen, wireless Apple CarPlay and Android Auto, head-up display, trizone automatic climate control and night vision.
The Escalade, built at Arlington, Texas, has been around since just before the turn of the century. When Ford Motor Co. introduced the Lincoln Navigator in 1998 it wasn't but a year before Cadillac showed off its new Escalade. The Range Rover and Lexus LX were also full-size SUV competitors at that time.