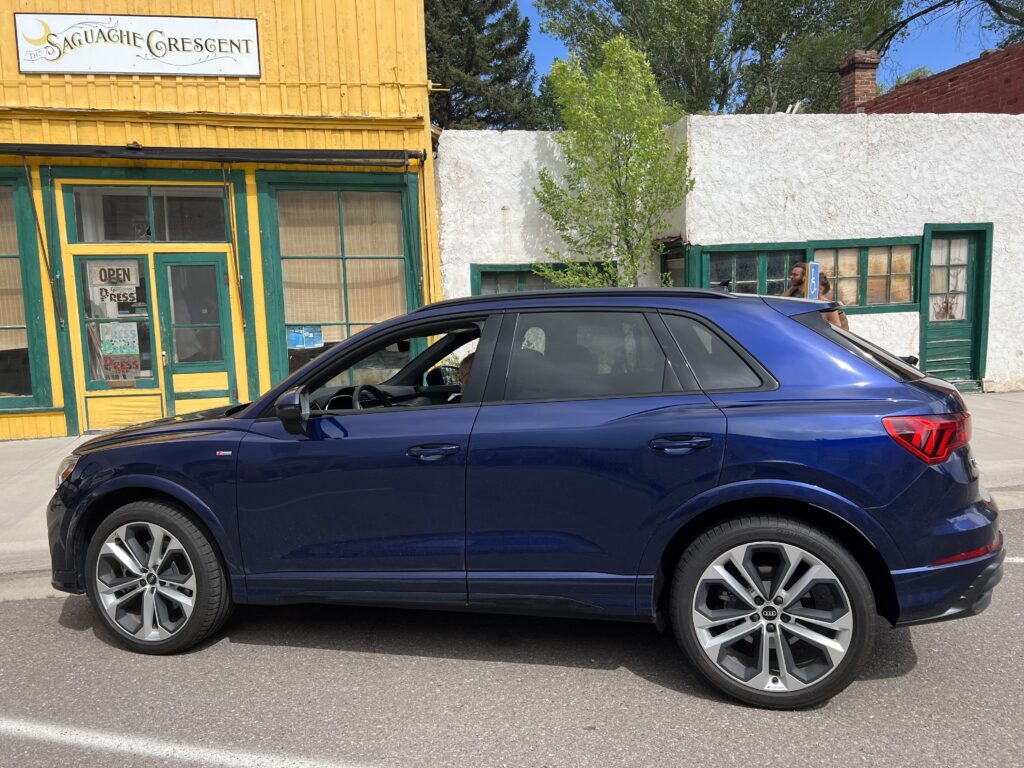 Our destination was the little, historical town of Saguache, sitting between two mountain ranges in southern Colorado, as Jan and I, after stopping for daughter, Kim Parker, headed out in a 2022 Audi Q3 S line quattro on a long drive on a midsummer 2022 morning.
The great-handling Q3, the little brother to the popular Audi Q5, was equipped with active cruise assist and lane-guidance. It carried us in five hours through the twists and turns of U.S. 285 southwest of Denver, past Fairplay to Buena Vista, then some welcomed straightaway on the last leg to Saguache.
There, inside the front door of the clutter-filled Saguache Crescent, sat Dean Coombs, at the keyboard of a 100-year-old Linotype, creating metal slugs for the next week's paper. The Crescent is the last newspaper in the country still using a Linotype to set those lines which will be transferred to the printed pages.
As I stood beside him and the machine (there was nowhere to sit), he continued to plink away with his index fingers. He knew I was coming, so I said, "I'm Bud." He lifted his right hand toward me, with the left still on the keys, and as I shook it, he said, "Dean."
This is what he does every day, except between 9 and 10:30 a.m., when he enjoys coffee time. It is the same daily grind established by his grandfather, then his father and mother before him; the family has owned the newspaper since 1917.
Saguache claims 550 residents; the Crescent's circulation is 360 and Coombs prints an extra 40 copies each week. The current edition was four broadsheet pages. His press is an 1898 model which prints two pages at a time.
The newspaper is his life; he doesn't hunt or fish or ski or travel. "I've not spent a night away from Saguache in the past 33 years," he said. He is not married; has a girlfriend, though, he said.
Did he ever consider giving up the long-outdated "hot metal" style of newspapering and turning to offset printing, as has every other paper in Colorado. "No, this is what we've always done, and I'll continue till I retire or expire and the paper will cease to exist." He's 70 years old.
Is the paper profitable? "Yes, it turns a profit every year, due to tax lists and legal notices required from the county, which bring in around $10,000."
"No," he said when I asked him if he was a car guy. What does he drive? "An '89 Chevy Astrovan and the same year Toyota pickup." During a bit more discussion, he offered this: "I actually have 10 other cars, all of them older and some don't run." They range from a '45 Willys Jeep to a '72 Saab. To own 12 cars, no matter of what era, I'd say makes him a "car guy."
Then, before we left, I walked him out front of the old newspaper building in order to give a look at the modern world in the form of the 2022 Audi. The Germans build quality automobiles, I told him. "Yes, I know," he said.
When we parked the Audi Q3 in our garage late that night, its trip odometer registered exactly 500.0 miles driven to Saguache and back. Not 499.9 or 500.1; 500.0 it was, and that is remarkable to me, somewhat of a numbers guy.
The Q3, a luxury compact SUV crossover, treated us well on the drive, with plenty of rear-seat legroom. For 2022, the Audi model gained several safety features, including blind-spot monitoring, rear cross-traffic alert and front and rear parking sensors.
It provided good economy and produced excellent passing strength from its 228-horsepower, 2.0-liter turbocharged, 4-cylinder engine and 8-speed automatic transmission with quattro all-wheel drive. Torque rating is 258 lb.-ft. In 600 miles of driving, 500 of which were the Saguache run, the Q3 averaged 29.2 miles per gallon. Its EPA estimate is below that – 21/28.
The 3,900-pounder was very composed in cornering and the Bridgestone Potenza 255/40R20 summer performance tires offered good grip. The Audi cruise control system will set speeds at half-mile-per-hour (61.5 mph), as well as the normal full-mile (62 mph).
Though styled somewhat like the larger Audi Q models, the Q3 at 176.6 inches is 8 inches shorter in overall length than the Q5.
The mountain drive, even with its highway irregularities and slowdowns, was a good one. Saguache is home to some of the largest and most beautiful hollyhock plants and flowers in Colorado and celebrated its annual Hollyhock Festival in late July. In our return, we stopped at the busy downtown Buena Vista and had difficulty finding an eating establishment due to a number of closures for lack of workers.
The Audi Q3 models seem fairly moderately priced for entry-level luxury compacts with quattro drive. The base Q3 trim is the Premium, starting at $37,600.
The review model, the Q3 S line Premium, carried base price of $38,700, which reached $48,740 with the addition of top-view camera system, auto-dimming interior and power-folding exterior mirrors, Audi MMI touchscreen and navigation and traffic-sign recognition, sport front seats with S embossing and contrast stitching.
The Q3, assembled in an Audi factory in Gyor, Hungary, competes with the Mercedes-Benz GLA, BMW X1 and X2, Volvo XC40, Cadillac XT4, Lexus UX, Jaguar E-Pace and others.