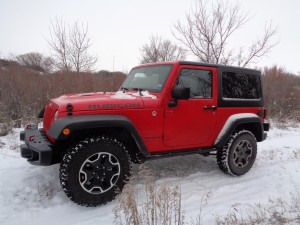 I was crawling over a snow-covered trail in a 2015 Jeep Wrangler Rubicon Hard Rock the same day the final 2014 U.S. car/truck sales results were announced from Detroit.
Jeep showed the largest sales jump among all makes in the country – from 490,454 units the previous year to 692,348, a 41 percent increase. The Wrangler, Cherokee and Grand Cherokee accounted for almost 80 percent of the Jeep total.
Ram, Mitsubishi, Subaru and Audi followed with 28, 25, 21 and 15 percent, respectively, behind Jeep's 41 percent gain.
The Ford F-series, with 753,851 sales, was the best-selling vehicle in the U.S. for the 32nd consecutive year and the top-selling pickup for the 43rd straight year. Other category leaders were the Toyota Camry among cars with 428,606 sales, the Honda CR-V among SUVs with 335,019 and the Chrysler Town & Country among vans with 138,040 sales.
Ford said if all the F-series trucks sold last year were parked bumper-to-bumper, they would stretch from Los Angeles to New York City, with 50 miles to spare.
The weather was ideal (for a Jeep, anyway) the week I spent with the Wrangler; below-freezing cold and lots of snow. I engaged low range to access one steep, snow-covered hill and again in the descent of that hill. The two-door Wrangler's wheelbase (only 95.4 inches), short overhangs and tight turn radius lend opportunity to successfully tackle most any type terrain. Jeep is protective of Wrangler's stiff frame/body and offroad ways, even as those 4wd qualities and stiff suspension are detriments to a better ride in town and on the highway.
The Rubicon is equipped with red tow hooks in front and back, as well as removable end wings on the front bumper for increased access in rugged territory and BF Goodrich Mud-Terrain LT 255/75R17 tires.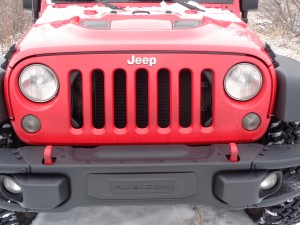 Moving the Wrangler about is a 3.6-liter V-6 engine (285 horsepower and 260 lb.-ft. of torque) with 6-speed manual transmission. It's not overly powerful, yet easily outperforms Jeep's former 3.8-liter V-6 in acceleration and torque. The Wrangler carries an EPA fuel mileage estimate of 17/21; I averaged 16.9 miles per gallon.
Interior highlights with the Hard Rock package are an Alpine nine-speaker audio system with all-weather subwoofer and UConnect voice command with Bluetooth, along with heated leather front seats with embroidered logos, black leather-wrapped steering wheel and quick silver HVAC accents.
I remember back in 1994 driving a new Wrangler with one of those tall manual floor shifters, priced at less than $15,000.
Sticker on the '15 Rubicon Hard Rock edition was $39,255, including heavy-duty front and rear axles, skid plates for transfer case and fuel tank, all-weather slush mats, power windows/locks/mirrors, rear window wiper/washer/defroster.
Base price for a 2015 Wrangler 4×4 is $21,695, with a soft top.
Following are sales leaders of new cars, SUVs, trucks and vans in the U.S. in 2014:
CARS
Toyota Camry              428,606
Honda Accord             388,374
Toyota Corolla/Matrix   339,498
Nissan Altima              335,644
Honda Civic                325,981
Ford Fusion                 306,860
Chevrolet Cruze           273,060
Hyundai Elantra           222,023
Ford Focus                   219,634
Hyundai Sonata            216,936
Toyota Prius                208,372
Chevrolet Malibu         188,519
Nissan Sentra               183,268
Volkswagen Jetta         160,873
Kia Optima                  159,020
Kia Soul                       145,316
BMW 3/4 series           142,232
Chevrolet Impala         140,280
Nissan Versa                139,781
Subaru Outback          138,790
Chrysler 200                117,363
Mazda3                         104,985
SUVs
Honda CR-V                 335,019
Ford Escape                  306,212
Toyota RAV4                267,698
Chevrolet Equinox       242,242
Ford Explorer              209,994
Nissan Rogue               199,199
Jeep Grand Cherokee  183,768
Jeep Cherokee             178,508
Jeep Wrangler              175,328
Subaru Forester            159,593
Toyota Highlander       146,127
Ford Edge                     108,864
Honda Pilot                  108,857
Hyundai Santa Fe        107,906
Lexus RX                       107,490
GMC Terrain                 105,016
Chevrolet Traverse      103,943
Kia Sorento                   102,520
TRUCKS
Ford F-series                753,851
Chevrolet Silverado    529,755
Ram                              439,789
GMC Sierra                  211,833
Toyota Tacoma            155,041
Toyota Tundra             118,493
Nissan Frontier             74,323
Honda Ridgeline          13,389
Nissan Titan                 12,527
VANS
Chrysler Town & Country  138,040
Dodge Grand Caravan 134,152
Toyota Sienna             124,502
Honda Odyssey          122,738
Ford E-series                88,896
Chevrolet Express        79,352
Ford Transit Connect   43,210
Nissan NV                     28,275
GMC Savana                 26,641
Mercedes Sprinter        25,745
Ram ProMaster             18,039
Kia Sedona                     14,567
Mazda5                            11,613
Nissan Quest                   9,833