Back then . . . . . 1980 VW Jetta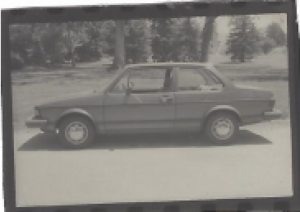 The original VW Jetta in Colorado in 1980.(The following column, by Bud Wells, appeared in The Denver Post on Saturday, June 28, 1980. It was the introduction of the Jetta to the Volkswagen lineup. At that time, only Toyota outsold VW in the U.S. among foreign car companies. The review model was provided on a complimentary basis by Tynan Volkswagen.)
Outstanding gas mileage and a practical rear seat good enough for a 200-pounder should bring Volkswagen's new Jetta some popularity in the subcompact field.
For the past five years, Volkswagen has had one of the most competitive front-wheel-drive hatchbacks on the market. It's not surprising, then, that the company's new notchback model is based on the engineering of the familiar Rabbit.
The Jetta is a better-looking product than the Rabbit, and its higher level of luxury and trim places it in the price range between the little Rabbit and the larger Dasher.
As with other VWs for many years, the Jetta's fuel credentials are impressive (EPA-rated at 25 miles per gallon in the city and 40 on the highway) and it has the same peppy engine and 5-speed transmission.
A new two-door model with little more than 100 miles on the odometer bettered 35 miles per gallon (35.1) on a Memorial Day drive to Yuma County in northeastern Colorado.
Legroom in the rear is okay and the rear-seat passengers sit high on firmly structured seats with adequate headroom and excellent view. The notchback style provides a large trunk area, enough for several pieces of luggage sitting upright with room to spare.
The car, built in West Germany, shows excellent craftsmanship. Rich-looking, cut-pile carpeting is widely used and velour-covered front bucket seats are fully reclining with adjustable headrests.
Air conditioning is an option which the test model didn't have. A sunroof would aid ventilation. The only other available options are automatic transmission, tinted glass and light alloy wheels.
The test model was priced at $8,065, which included $195 for destination charge. Steel-belted radial tires and AM/FM stereo radio were among standard equipment.
The 97-cubic-inch, 4-cylinder engine with 76 horsepower produces fast acceleration for the Jetta, which weighs only 1,900 pounds. Engine and transmission are mounted transversely. Turning circle is 31 feet. Wheelbase is 94.4 inches, the same as that of a Chevrolet Chevette.