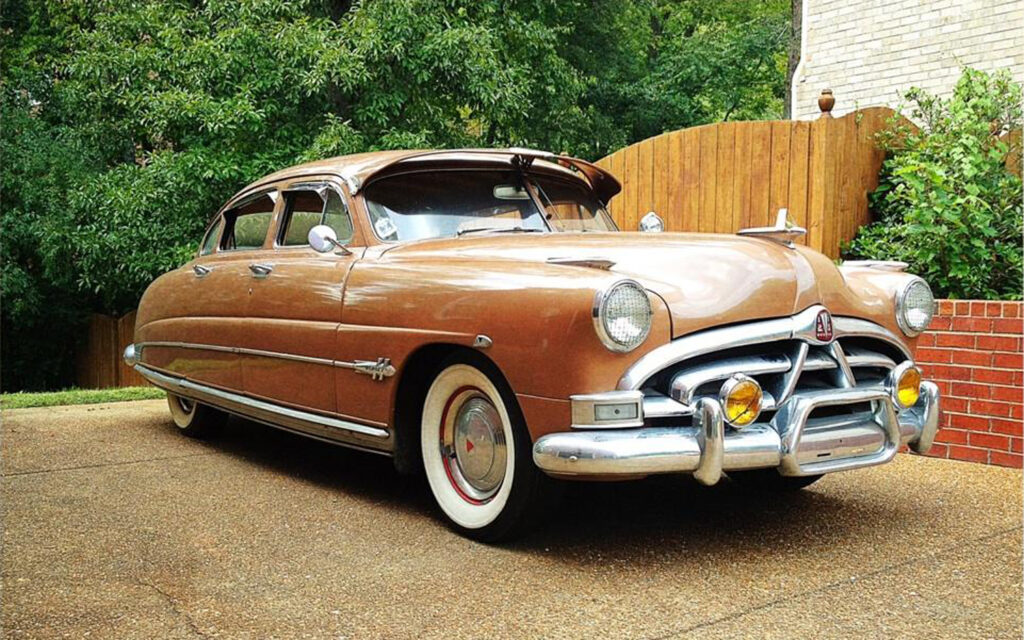 It all transpired from a mention in August (2022) that Dodge expects to resurrect the Hornet model name for its first plug-in hybrid, having acquired rights to the name from the Chrysler Corp. purchase of American Motors Corp. in 1987.
I wrote that I well-remember the original Hornet as a Hudson. An e-mail from a reader offered to share with me an even closer look back to the days of the Hudson Hornet in the early 1950s.
So on a September afternoon, the newest of the new all-electric autos, the 2023 Genesis GV60 Performance luxury compact crossover, carried Jan and me 50 miles south from our home to that of Ted and Carolyn Seith.
There the four of us, over tea and cakes, shared recollections of what some might say is an almost-forgotten part of U.S. automotive history – the Hudson Motor Car Co. of Detroit.
There's no forgetting for Seith, whose father, Richard Seith, was a test-car driver for Hudson in the late 1940s and early 1950s. He often rode along with his dad in drives of the new models. In testing all sorts of quality/performance/durability for new Hudsons, Richard Seith worked alongside another test veteran, Marshall Teague, who became an outstanding NASCAR racer and died in a crash in 1959.
The Hudson company built cars in Detroit from 1909 to 1954, when it merged with Nash-Kelvinator to form American Motors. "Rather than a merger, it was a takeover by Nash," said Seith. His point is well-taken, considering that, though the Hornet name was continued through 1957 after the formation of American Motors Corp., it was as a restyled Nash.
Hudson introduced its "step-down-into" structure in 1948; the low center of gravity improved its handling, an advantage in racing, and its lightweight unibody construction and very fast flathead inline-6-cylinder turned the Hornet into a stock-car champion.
Seith said his dad told him drivers from other manufacturers often tested their new products near the same roads as did he. "The Hornet in the early '50s was faster than the Chrysler V-8 and also beat an Oldsmobile 88 V-8," the elder Seith told his son.
Hudson, until the AMC merger, was a strong sales competitor against Chrysler, DeSoto, Lincoln, Mercury and Oldsmobile, and was well-represented with local dealerships.
When automobile assembly lines began rolling again in 1946, following the end of World War II, there were 28 Hudson dealerships in operation in Colorado. Seven in Denver were Fred A. Ward Inc., Frank E. Brenner, Jack Brown Motors, Chambers Motor Co., Elwood Edwards Auto Sales, Harrison Motors and Vic Hebert; Owen Motors was in Englewood and Lookout Mountain Service in Golden.
Others around the state were Lesher Motor Co. in Akron, Holly Hudson Motors in Boulder, DeFries and McCaun in Colorado Springs, Ray's Garage in Craig, Rice Service Station in Eagle, Allison Motors in Estes Park, Mountain Motor Co. in Fort Collins, Yates Motors in Fort Morgan, Fedderson Motors in Greeley, Petre Motor Co. in Haxtun, Fiedler Motor Co. in Holyoke, Davis Motor Co. in Idaho Springs, Huston Motor Co. in Julesburg, Bert Maich Garage in Leadville, Harris Motor Co. in Limon, Longmont Motor Co., Grace Motors in Sterling, Starr Motor Co. in Wray and Hansen Garage in Yuma.