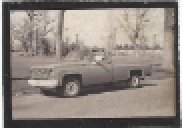 (More than 40 years ago, on April 19, 1980, I reviewed in The Denver Post a Chevrolet C10 6-cylinder pickup. Following are excerpts:)
A piano-hauling trip to Fort Worth, Texas, provided a test for a half-ton Chevrolet with a 250-cubic-inch inline-6-cylinder engine and 3-speed automatic transmission.
With the load in the back, the wide-seated C10 rode good through the wind of New Mexico and Texas. Power steering added surprising nimbleness in city traffic. Destination was Fort Worth, where daughter Kim was employed.
The quiet-running "6" climbed windy Raton Pass easily enough, with an occasional drop into 2nd gear. Gas checks from Denver to Fort Worth with the load aboard were 15.8, 15.5, 15.6 and 17.2. Unleaded-fuel prices ranged from $1.13.9 at Wichita Falls to $1.21.8 at Amarillo.
Fury in the form of a Texas-sized windstorm bucked the pickup on the return from Fort Worth to Amarillo. Heading into the gale-like force, the vehicle seemed to hang on the hills, and its mileage checks were trimmed to 12.8 and 11.2.
Without the winds and without the load, the Chevy finally got a chance to show what it could do through the cactus and dryland north of Amarillo. Two fuel stops between there and Denver resulted in identical17.5-miles-per-gallon readings.
The cab is roomy enough to seat three adults comfortably over a long ride. It didn't shut out the wind noise.
Compression ratio on the 250-cid engine is 8.3 to 1. Other engines available on the half-ton pickup are V-8s of 305 and 350 displacement.
Payload of the C10 on a 131.5-inch wheelbase is 2,100 pounds. Suspension includes coil springs in front and leaf springs in the rear, with 15-inch wheels. The "6" is designed to handle trailers of up to 2,000 pounds.
Base price of the C10 Fleetside, provided on a complimentary basis by Stevinson Chevrolet, is $5,194. With the automatic transmission, power steering, power brakes and other options, the test model's price was $6,965.