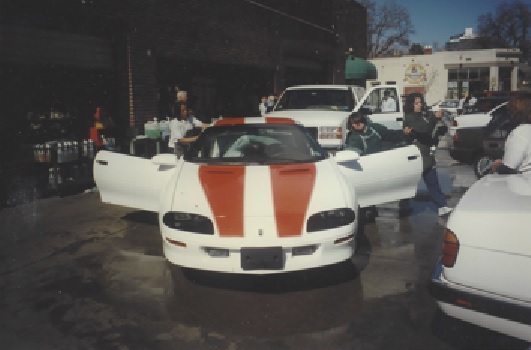 (Twenty-five years ago, in February 1997, I drove and reviewed the 30th anniversary Chevy Corvette. Excerpts follow:)
The 30th anniversary Camaro Z28, a car that befits my youthful image, shows just as it snows, and snows. Four snowfalls in six days. Nothing heavy, just enough to slick down the streets and dirty up the car.
What a fun car to drive. With V-8 power, it's best on dry roads, though.
Chevrolet has done a nice job with the anniversary appearance package. The arctic white exterior is enhanced with center stripes over the trunk, top and hood in "hugger' orange, reminiscent of the classic '69 Z28.
Inside, the seats are of black-and-white houndstooth inserts, with 30th anniversary embroidery on the floormats and headrests.
Wheels are white five-spoke aluminum.
Originally, some Chevrolet insiders say, the plan was for the anniversary car to be orange with white stripes. What a sight that would have been.
Few cars run as strong as does the Camaro with the 5.7-liter V-8 engine. The LT1 powerplant, introduced in the '92 Corvette, produces 285 horsepower and 325 lb.-ft. of torque. It's a throwback to the muscle car days, and is exhilarating to drive.
Coupled with a 6-speed manual transmission, the Camaro has tremendously quick initial acceleration. But the tranny has that unconventional (silly) "skip shift" (Computer-Aided Gear Selection) system. Under certain acceleration situations, the system locks out 2nd and 3rd gears and directs the gearshift from 1st to 4th. Such a fall-off in power from 1st to 4th is very unlike-Camaro.
To avoid this, a driver must kick out very hard, or shift almost immediately from 1st to 2nd, or delay the shift until the "skip shift" light no longer shines (about 2500 rpm).
Camaro's been a popular muscle car since its debut in 1967, when a white SS Camaro convertible drew attention as the Indy 500 pace car. Sales have slowed in recent years. It competes with the Ford Mustang, Toyota Supra and Celica, Honda Prelude and Mitsubishi Eclipse.
The colorful review model carried a sticker price of $23,926, including a Z28 equipment group of speed control, remote hatch release, fog lamps, power windows and locks, electric remote mirrors, leather steering wheel, keyless entry and theft-deterrent alarm.
Other options, in addition to the equipment and appearance packages, were power seat, rear-window defogger, traction control and CD player. The stereo had the speed-compensated volume control, quieting a bit at idle, then increasing volume at highway speeds.
Rigid body structure adds to Camaro's handling capabilities. Suspension is short/long arm in front, with dampers and springs of coil-over-shock design. At rear is a Salisbury axle design with trailing arms, track bar and torque arm.
The Camaro is equipped with driver and front-passenger airbags and an antilock brake system.
The EPA rating is 16 in town and 27 on highway. I averaged 15.3 in mostly in-town driving.
All Camaros are manufactured at the General Motors assembly plant in Ste. Therese, Quebec, Canada.