Hemi V-8, near end, sounds off in Challenger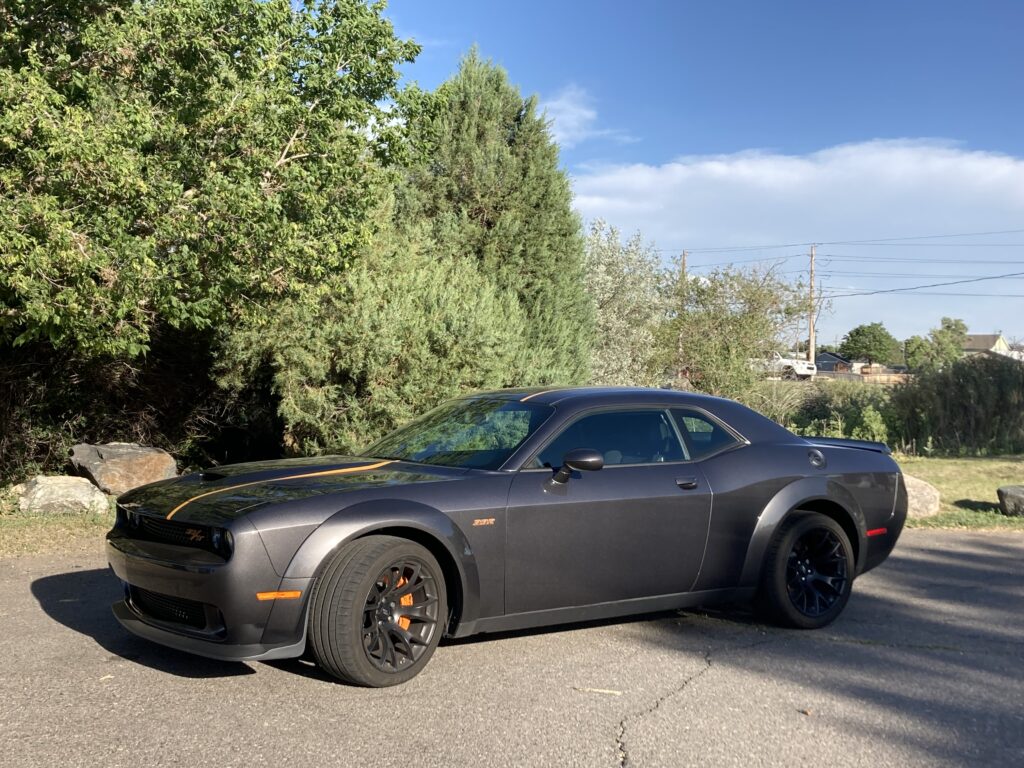 The rumble on startup from the Dodge Challenger Hemi 6.4 is a wonderful sound, one which just might soothe the unrest in a car guy's mind these summer days.
I enjoyed the resonance of the pipes over and over again while driving the 2022 Challenger R/T Scat Pack Widebody Hemi 392 V-8 with orange stripe.
The Hemi delivers an excess of performance – 485 horsepower/475 lb.-ft. of torque – while mated to an 8-speed ZF automatic transmission, rear-wheel drive, 20-inch-by-11-inch wheels with Pirelli 305/35ZR20 P Zero tires, Brembo performance brakes with orange calipers.
Instant high-rev paddle-shifts in sport mode and a standard launch control are added drive highlights.
The unrest factor, generally speaking, is the current rush toward electric automobiles, and, specifically, to the realization that the famed Hemi engine will make its final run in 2023.
Stellantis officials, including Dodge CEO Tim Kuniskis, have indicated that by 2024 the company's only combustion engine, transitional into the electric era, will be a turbocharged 3.0-liter, inline-6-cylinder with possibility of 400 to 500 horsepower.
Discontinuance of the Hemi V-8 will allow a rise in the Stellantis' fleet fuel economy, which presently is lowest among U.S. automakers.
The Dodge Challenger Scat Pack Hemi 392 EPA estimate is 15 city, 24 highway, 18 combined mpg; my overall average was 19.6.
The Challenger, with wheelbase of 116.2 inches and overall length of 197.9 inches, shares the same platform as Dodge Charger and Chrysler 300, and scales in at curb weight of 4,275 pounds. That is around 500 pounds heavier than Mustang and Camaro, which leaves the Ford and Chevy more nimble in handling.
A sales edge for the Challenger, though, is the fact it offers a V-6-powered model with all-wheel drive, a popular option in areas of severe winters, such as Colorado. Neither the Mustang or Camaro offer AWD. The Challenger outsold both Mustang and Camaro in 2021.
Very comfortable, bolstered front bucket seats lend the Challenger a decent ride; legroom is tight in the rear seat, though the trunk is a spacious 16 cubic feet.
The Challenger, built at Brampton, Ontario, Canada, carried a sticker price of $63,500. The R/T Scat Pack Widebody enhancements added $5,995 to the base price of $44,155. The automatic transmission cost another $1,595 and Uconnect navigation and Harman Kardon surround tacked on $2,790. Fender flares, adaptive damping and competition suspension are part of the Widebody package.
The Chrysler Corp.'s initial Hemi engine was a 331-cubic-inch Chrysler Firepower V-8 in 1951, and the Hemi was a feature for the launch of the Chrysler 300 in 1955. Race driver Richard Petty in 1964 won his first Daytona 500 in Hemi-powered Plymouth and later earned his first grand national championship.