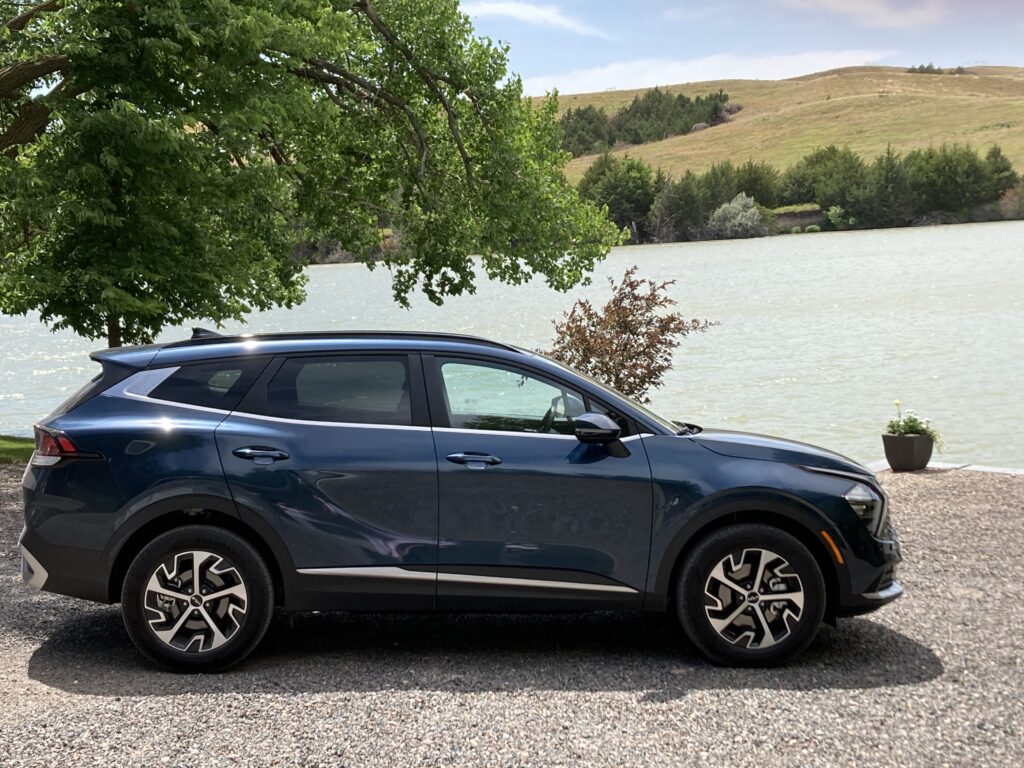 An all-new hybrid model, the 2023 Kia Sportage, was provided for our drive to North Platte, Neb., and back.
Wheelbase and overall length have been stretched in the Sportage for '23; noticeable improvements are the vast amount of legroom in the rear-seating area and the ample cargo space, which has increased from 30 cubic feet to almost 40.
Though the Sportage has been around since 1995, the '23 Kia Sportage Hybrid EX All-Wheel Drive is its first gas/electric offering.
Performance comes from a 227-horsepower, turbocharged 1.6-liter, 4-cylinder engine, an electric motor and 6-speed automatic transmission. Drive modes of Eco (Normal), Sport, Smart and Snow are provided. Off-the-line acceleration is about average and passing power is enough for comfortable highway travel.
A son, Brent Wells and wife Tina, of Windsor, joined Jan and me for the drive to North Platte for Larry P. Smith funeral services on Wednesday, June 29, at First United Methodist Church. For 36 years Smith taught math and physics at Mid Plains Community College in North Platte. The eulogy was delivered by another son, Kurt Wells, who is married to Smith's daughter, Tammy. Patsy, Smith's wife of 66 years, survives, along with son Steve and his wife, Lori, and Tammy and Kurt. At Grand Island, Neb., High School in 1953, Smith played on an undefeated state championship football team, which several years ago was inducted into the Nebraska Sports Hall of Fame.
The Kia's expanded cargo space very capably handled all our luggage and other traveling items. A compact SUV, the Sportage's overall length is 183.5 inches, an increase of 7 inches. Wheelbase is up to 108.5 inches from 105.1.
In 555 miles of travel to North Platte and back, the Sportage Hybrid averaged 29.4 miles per gallon, somewhat below the EPA estimate of 38 in town and 38 on the highway. Affecting the mpg was the fact much of the trip was on Interstate highways, with average speed of 75 to 80 miles per hour, and windy conditions were encountered off and on. Following the return from Nebraska, about 60 miles of in-town drives averaged 36 mpg.
Base price for the sporty-looking Sportage Hybrid EX is just over $32,000, including synthetic leather upholstery, heated front seats and steering wheel, a 12.3-inch touchscreen for navigation, remote start, lane-keeping assist, forward-collision-avoidance assist, blind-spot collision-avoidance assist. A $1,500 optional package of panoramic sunroof, hands-free liftgate and LED interior lighting raised sticker price to $33,860.
A cheaper trim level is the Sportage Hybrid LX, more expensive is the SX Prestige. The Sportage Hybrid is built in Gwangju, Korea. Some competitive models of the Kia are hybrid versions of Hyundai Tucson, Honda CR-V, Toyota RAV4. Legroom in the rear-seating area and the large cargo space with a low liftover height for ease of loading and unloading.