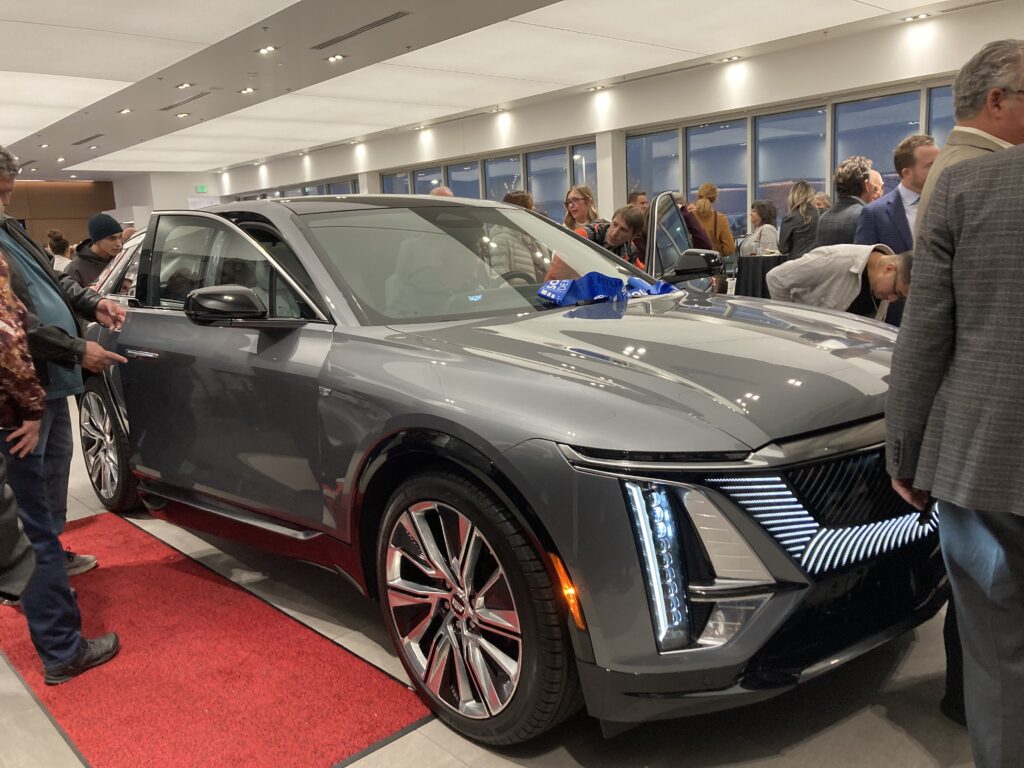 As snow fell outside the showroom windows, John Elway Cadillac staged a somewhat picturesque unveiling on a November Thursday evening with a huge crowd of customers and curious onlookers. With the new car covered from sight as the men and women streamed in, it was a look-back to when dealers took the wraps off the newest models on a special fall night.
This new product breaks tradition, though. It is Cadillac's entry into the burgeoning world of all-electric automobiles – the 2023 Lyriq SUV. The sharply styled luxury sport ute was well-received by those in the Elway showroom. It will be offered in all-wheel and rear-wheel-drive configuration.
The occasion for showing the newest electric was the grand reopening of the remodeled dealership on East Parkway Drive near Park Meadows in Lone Tree.
"We are the No. 1 Cadillac dealer in the state of Colorado," said Todd Maul, managing partner for the John Elway Dealership Group. Yes, Elway, the aging "quarterback," was there with Maul, greeting all and very patiently posing for photos with any who asked.
Thanks to the weight of the liquid-cooled lithium-ion, 102kWh battery pack, the Cadillac Lyriq scales in at 5,600 pounds or more. It is 196.7 inches in overall length on a wheelbase of 121.8 inches. A single motor, 340 horsepower, drives the rear wheels. In AWD form, a second motor powers the front wheels, with combined 500 horsepower.
Cadillac claims the Lyriq, in rear-wheel form, will deliver a range of 312 miles between charges. Impressive inside the model is a 33-inch display screen spanning most of the dashboard.
Tim Jackson, president/CEO of the Colorado Automobile Dealers Association, was among those welcomed to the gathering by Maul.
It was good to run into Ron Goodman, sales manager at Elway Cadillac, and his wife, Rosie. My acquaintance with Goodman goes back a number of years when he was operating Goodman Buick GMC on South Broadway. Goodman drives a Cadillac CT4 sedan and Rosie an XT4 SUV.
I enjoyed visiting with Nancy McDonald, an account executive with Fox31, who told me her late father, Ernie, never missed reading a car column of mine. We also talked of the top quality of U.S. full-size pickups; her favorite is the GMC Sierra.
Michele Apodaca, publisher of Quality Connections South Metro magazines, reminded me that she, too, was involved in Denver newspapering some years back and her desk was very close to mine.
With Jan as my passenger, I drove to the event in a turbocharged 2023 Mazda CX-5 compact SUV crossover. The return drive was on I-25 through the heart of Denver in falling snow, wet roads and all lanes filled with heavy traffic. The CX-5 handled well. It is popular and accounts for more than half the number of new Mazdas sold in the U.S.