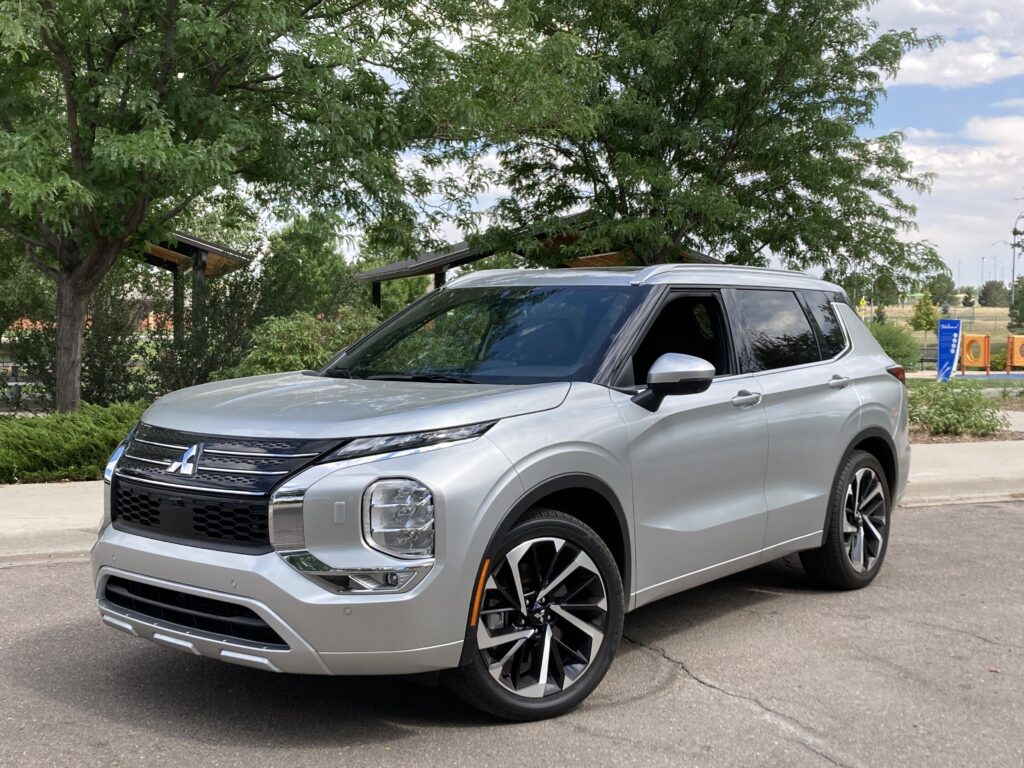 I'd not driven a Mitsubishi product since its new Eclipse Cross crossover a couple years ago, so it was high time for another when the 2022 Outlander SEL showed up in my driveway on a July 2022 morning. .
The new Outlander, which shares a platform with the Nissan Rogue, is refreshing with rounded hood front/grille, a boxlike stack of headlights beneath thin turn signal lamps and a wider, more muscular stance.
The Outlander is one of few compact crossovers with three rows of seats; this year's structure is a bit wider and taller, still the third row is very tight, enough space only for small children. With the third row in place, cargo space at far back is only 11.7 cubic feet, though that expands to 33.5 feet with seats folded.
As per its alliance with Nissan, Mitsubishi borrowed the Rogue's 188-horsepower, 4-cylinder engine, tied to a continuously variable transmission with a somewhat traditional automatic feel from its simulated gear shifts. It is of all-wheel-drive configuration.
The interior is jazzed up with orange trim and stitching against the nearly all-black finish and offers Bose premium sound.
A $2,700 SEL Touring package of heated steering wheel, synthetic leather door insert with quilting, head-up display and panoramic sunroof boosted sticker price of the Outlander to $37,995.
At one time, Mitsubishi products from Japan were a major player in U.S. automobile business. At the turn of the century, Mitsubishi sold 315,000 cars and trucks in the U.S. in one year. Remember the Galant and Montero Sport?
Today, sales have dropped by 69 percent since the year 2000. Through the end of June this year, Mitsubishi's shrinking dealer base has sold 48,272 cars and trucks. Half of those sales were the new Outlander. Only other Mitsu models are the Mirage car, Eclipse Cross and Outlander Sport crossovers.
Despite the precipitous fall in sales, Mitsubishi is not at the bottom of the sales totals. It still outsold Lincoln, Jaguar, Land Rover, Infiniti and Porsche. Mitsubishi even sold slightly more than Buick, 48,272 to 48,075 – 197 units.
The Outlander handles fairly well, with quick steering. The overall performance seems somewhat underpowered, particularly when passing on the highway, as the Outlander is a couple-hundred pounds heavier than the Rogue. Normal mode is an improvement over the very mild Eco setting; there are terrain sets also for tarmac, gravel, snow and mud. The 3,600-pounder rides on Bridgestone 20-inchers.
In a fairly even split of city/highway miles, the Outlander averaged 26.8 miles per gallon; its EPA estimate is 24/30.
Sales in the U.S. of Mitsubishi models through the first six months of this year are 24,429 for the Outlander, 9,535 for Mirage, 8,596 for Outlander Sport and 5,712 for Eclipse Cross.
Expected during the winter is a 2023 Outlander PHEV plug-in hybrid.