GMC Hummer electric 9,065 pounds/1,000 hp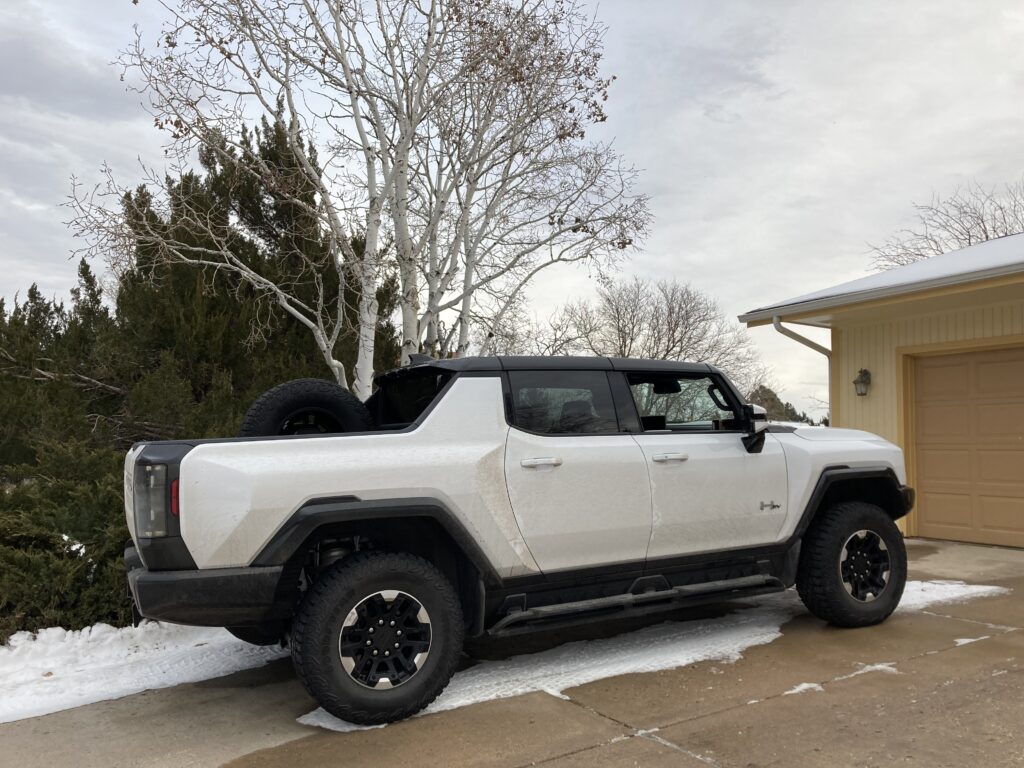 Christmas Week 2022, my word what a busy time with bitter cold and deep snow; travel duties, though, were handled with ease by the Hummer EV Pickup, General Motors' blockbuster entry among the rush of electric vehicles.
Its curb weight is more than 9,000 pounds and three electric motors develop almost 1,000 horsepower.
It is 86.7 inches wide, 7 inches wider than a full-size GMC Sierra pickup. Wheelbase is 135.6 inches and overall length 216.8. Its small box is 5 feet in length.
Sitting in the driveway of son Dale and Sandy Wells' home in Johnstown on Christmas afternoon, the Hummer's size drew comments from many of the 50 family members gathered for our annual dinner.
A day earlier, Christmas Eve morning, my old traditional greeting of "Merry Christmas" was tossed from the open window of the Hummer in a "drive about town" in Greeley.
Turned back by black ice in a Toyota Sequoia Hybrid the week before in our attempt to visit relatives in Sterling, the journey was completed in full length on Monday, the day following Christmas. while driving the 2022 GMC Hummer.
Son Brent joined Jan and me for the drive and we visited with Norma and Dave Wagner, Jana Lock and Pat Ogley while there.
Preparing for the drive, I spent an hour Monday morning at a ChargePoint station at Village Inn at Greeley Centerpoint, sharing space in the four-station area with one other electric, an older BMW i3. Replenishing the Ultium battery pack of 210 kWh capacity to almost full raised the estimated range of miles to 300. The charge for lifting the energy level from 60 percent to about 92 percent was $45.57, including $7.73 for a parking fee. Thus, in this instance, the almost-$38 cost for the electric charge was more costly than it would have been to similarly replenish fuel for a gasoline-powered Hummer. The drive to Sterling and back covered 210 miles, while the battery pack was reduced from an estimated 297 miles to 47 for an estimated use of 250 miles.
As part of the Hummer's Super Cruise, the lane-changing and lane guidance features are among the best of any I've driven and tested. The system consistently maintains center-lane position for the Hummer, and in self-driving mode will signal, then initiate a move into the next lane for passing or accommodating heavy traffic along the lanes.
This longtime gig of mine, driving and reviewing new cars and trucks, began 45 years ago, Christmas Eve 1977. I left the Denver Post newsroom at 15th and California about 4 p.m., Jan picked me up and drove out north to Griffith Chrysler Plymouth in Northglenn, where I was handed the keys to a 1978 Chrysler Cordoba.
All these years later, we're transitioning as hundreds of variations of electric cars and trucks are heading our way, very swiftly, very quietly, even against fears and warnings of some analysts that electric-car charging may overload the power grid.
General Motors appears to have engineered a superb set of advancements for the Hummer electric.
The Hummer is pricey; sticker price on the review model I am driving is $110,295. It is built at the Detroit-Hamtramck factory. On sale in limited production, the GMC product is special, for in its newness it rivals the Ford F-150 Lightning electric pickup, the Mercedes-Benz EQS450 Electric, the BMW i4 M50, the Audi e-tron GT and others.
The Hummer's estimated tow rating is 7,500 pounds, with an estimated payload of approximately 1,300 pounds.
We tested Hummer's "crab walk" mode, in which the rear wheels can turn as much as 10 degrees and will mimic the angle of the front wheels to assist a diagonal move in parking or offroad; it almost seems as though it is "scooting" over.
It is equipped with air ride adaptive suspension, trailering package, 13.4-inch color touchscreen, navigation, Bose premium sound, remote start, heated steering wheel, spray-in bedliner, multipro tailgate, transparent sky panels and enhanced automatic parking assist.
One-third of the space in the small pickup bed is dominated by the upright spare wheel and tire, which can be removed to create more cargo room.