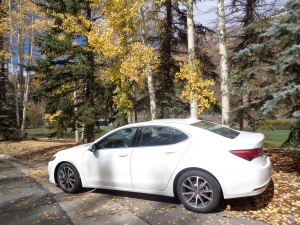 For 2015, an engineering feat by Acura has combined two models into one in a midsize makeover.
The result is the pleasantly styled '15 TLX sedan, which delivered us smoothly to Vail and back.
The two 2014 models which met their maker to create the new one are the TL and its sportier stablemate, the TSX.
The new TLX is of much sleeker design than the two old bodies; it's a bit longer than the TSX, though 3.8 inches shorter than the TL.
Fashioned so elegantly, and with a 9-speed automatic transmission, push-button shifts and all-wheel drive, the TLX made a hit with me.
A question for Acura, though, is whether one model can sell at the same pace or faster than the two models of the past. It's the same query tossed at Sergio Marchionne, head of FiatChrysler, in his intention to do away with the Dodge Grand Caravan minivan in favor of its near-twin, Chrysler Town & Country. Will he sell as many minivans under the Chrysler nameplate as he has under combined Dodge/Chrysler names? I doubt it.
Regardless of level of future sales, the '15 TLX luxury midsize four-door is a pleasure to drive.
A 290-horsepower, 3.5-liter V-6 is tied to the 9-speed automatic; it kept pace, often on the inside fast lane, with no problem on the I-70 climb up the mountains. With all the gearing available, a slight tendency at times to remain in higher gear with lessened performance, can be overcome with use of Sport mode in Acura's Integrated Dynamics System. Using paddles at hand, shifts are quickened, throttle is more responsive and steering is stiffened. Upshifts are delayed.
There is no shifter in sight; it's a matter of pushing buttons for P (park), D (drive) and N (neutral) and pulling a small lever for R (reverse). Push-button transmissions were popular 50 to 60 years ago, used by Chrysler, Mercury and Rambler, with some frustrating moments when a button would slip out of place. Those were mechanical; Acura's is electronic, it won't fail.
Only on either side of the Eisenhower Tunnel and over Vail Pass did we see any snow or feel wet roads. In more adverse conditions the Acura's drive system, Super Handling All Wheel Drive, distributes torque between the front and rear axles, as well as between the rear wheels. Torque vectoring (distributing power to each wheel independently) has been enhanced in the new TLX.
The new Acura is a good handler, with a quiet cabin. It has a wide turn circle, almost 40 feet.
Its interior, with leather, is comfortably finished and roomy enough for five adults. Spacewise, the only lack is in headroom in the rear seating area; trunk space is 14.3 cubic feet. A deep dash juts sharply toward the front seats, putting center stack controls within easy reach of both driver and front-seat passenger, though cutting down on legroom, particularly for the passenger. The center stack features dual display screens, a lower touch-screen for audio and climate control, the upper controlled by knobs and buttons also for audio and navigation. It can lead to confusion.
Aided by the return drive from Vail, overall fuel-mileage average for the TLX was 29.4 miles per gallon; EPA estimate is 21-31.
The TLX sticker price of $45,595 was boosted by two packages:
Technical – Navigation with voice recognition and multiview rear camera, real-time traffic, ELS studio premium audio with 10 speakers, perforated leather seats, blind-spot information, forward-collision warning, lane-keeping assist, rain-sensing wipers and rear-cross traffic monitor.
Advance – Collision-mitigation braking system, adaptive cruise control, ventilated front seats, exterior puddle lamps, remote engine start, front and rear parking sensors, LED foglights and road-departure warning.
A lesser-priced version of the new TLX can be bought in the $35,000 to $38,000 range with front-wheel drive, a 206-hp, 4-cylinder engine and 8-speed automatic transmission. It is rated at 35 mpg on the highway. It is equipped with an all-wheel-steering system, not available with the V-6 engine.
Here are the specifications for the '15 Acura TLX SH-AWD:
Wheelbase 109.3 inches
Length 190.3 inches
Width 73 inches
Height 57 inches
Curb Weight 3,774 pounds
Track 62.8 inches front, 63.1 rear
Ground Clearance 5.9 inches
Turn Circle 39.6 feet
Drivetrain All-wheel-drive
Engine 3.5-liter V-6
Horsepower/Torque 290/267
Transmission 9-speed automatic
Steering electronic power
Fuel mileage estimate 21/31
Fuel mileage average 29.4
Fuel Tank 17.2 gallons
Wheels 18-inch
Cargo Volume 14.3 cubic feet
Warranty 4 years/50,000 miles basic, 6/70,000 powertrain
Competitors Lincoln MKZ, Audi A4, BMW 3 series, Lexus IS
Assembly Plant Marysville, Ohio
Parts Content U.S./Canadian 65%
Base Price of Lowest Model $31,890; Base Price of Review Model $44,700; Destination Charge $895; Sticker Price $45,595.