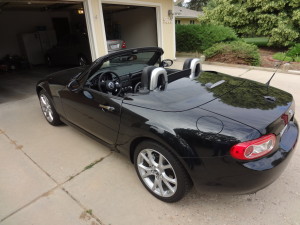 The 25th anniversary edition of the Mazda Miata, only 100 in number, will arrive in early September, About the same time, Mazda plans to begin providing quick glances to a totally redesigned 2016 Miata. In the meantime, amid the confusing release of those next two models, the '14 version recently came my way.
What'd you think of it, someone asked recently after my farewell column in the Post. I had featured a photo of the 2014 MX-5 Miata convertible, though said little about it, as I mainly reminisced in the farewell.
The two-seater Miata, jet black in exterior finish, is a Grand Touring model with a power retractable top, and here's what I thought about it: Driving anywhere in Colorado on a summer night is a great time for testing it. Loosen the center latch at the windshield header, push a button and the top drops into the trunk in barely more than 12 seconds. The cool breeze and open look are invigorating.
The rear-wheel-drive Miata, on a wheelbase of only 91.7 inches, is a good handler with independent double-wishbone front and multilink rear suspension. Its turn circle is only 30.8 feet. It is nimble, accelerates fairly quickly with lots of noise from its 158-horsepower, 2.0-liter 4-cylinder engine and 6-speed automatic transmission.
Unlike most competitors, which use a paddle shifter to the left of the steering wheel to downshift and one on the right to upshift, the Miata has an odd-looking paddles and thumb presses system. Pull the paddle on either side to upshift and thumb-press either side to downshift. It's easy enough to use, after a few blocks of low-speed stop-and-go situations.
Inside, the finish is in spicy mocha brown. The seats are positioned very low; of course they are, for, even with the top in place the Miata measures only 49 inches in overall height. They're low and narrow and bolstered, and most accommodating to a driver of modest stature.
About the time this driver began to tire, the car's tank did, too. It is only 12.7 gallons in capacity and, with the Miata's EPA estimate of 21/28, this will extend only 250 to 325 miles between refreshing fuel stops.
The addition of a $1,300 premium package of antitheft alarm, keyless entry, Bluetooth, Sirius satellite radio and xenon headlights pushed sticker price for the Miata to $32,735. Among standard equipment are Bose audio with seven speakers, heated leather-trimmed seats, leather shift knob, automatic air conditioning, dual front and side airbags and trip computer.
Here are the '14 Miata's specifications:
Wheelbase 91.7 inches; Length 157.3 inches; Width 67.3 inches; Height 49 inches; Curb Weight 2,593 pounds; Track 58.7 inches front, 58.9 rear; Ground Clearance 4.6 inches; Turn Circle 30.8 feet; Engine 2.0-liter 4-cylinder; Horsepower/Torque 158/140; Transmission 6-speed automatic; Fuel mileage estimated 21/28, average 25.7; Fuel tank 12.7 gallons; Wheels 17-inch; Cargo Volume 5.3 cubic feet; Warranty 3 years/36,000 miles basic, 5/60,000 powertrain; Competitors Volkswagen Beetle, Mini Cooper, BMW Z4, Nissan 370Z; Assembly Plant Hiroshima, Japan; Parts Content Japan 95%; Base Price of Lowest Model $23,720; Base Price of Review Model $30,550; Sticker Price $32,735.
The MX-5 Miata made its global debut on Feb. 9, 1989, at the Chicago Auto Show. More than 900,000 have been sold around the world since.