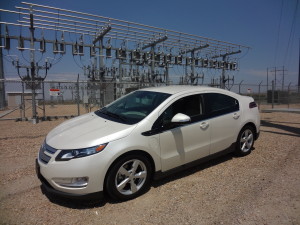 The fact a driver of the 2014 Chevrolet Volt can apportion the limited electric drive mode to more optimally meet driving conditions is impressive among new technology for the extended-range plug-in electric.
In its first two years of operation in the U.S., it was necessary the Volt expend its 30 to 35 miles of battery/electric power before kicking in its 1.4-liter 4-cylinder engine to generate power to recharge the battery pack, from which propulsion then continued to flow.
Today, pushing an EV Hold mode button at the center stack permits the driver from the start of a fully charged Volt to choose between the battery/electric power source or the generator engine/gasoline, depending on which would be most effective in the particular drive conditions. Stop-and-go in the city? Use the battery, save your gas. Climbing a hill; same thing. Coasting or cruising the highway; turn on the engine for unusually high miles-per-gallon readings.
The Volt plug-in electric is ideally for those who drive very conservatively, back and forth to work and an occasional drive to the supermarket; then it is plugged in overnight for a full recharge.
The new hold mode offers up better driving choices for those who might require service from a Volt similar to that of an ordinary vehicle powered by an internal-combustion engine.
Twice I charged the battery pack overnight, which provided 70 miles of electric power included in the overall total of 260 miles for the Volt and me. Overall fuel-mileage average was 45.7 miles per gallon.
Figure it out; those 70 electric bonus miles save gasoline fuel. The car is costly, though. Sticker price of $39,945 is high for a compact sedan. It has niceties beyond its electric power, such as navigation with traffic alerts, Bose premium audio, 7-inch touchscreen display, rearview camera, lane-departure warning, leather seat trim and heated seats in front.
With the Volt's high-tech finish, it is surprising that the shifter at the center console is large and somewhat clunky in feel. There is nothing awkward, though, about the performance of the front-drive Volt.
Acceleration from a dead stop is smooth, quiet and more than adequate; the torque tails off at higher speeds. The Volt runs on Goodyear Assurance 215/55R17 tires, with MacPherson-strut front suspension/stabilizer bar/coil springs and semi-independent rear torsion-beam with coils.
A low-hanging front air dam cuts ground clearance to only 3.5 inches. Some Volt owners, tiring of the scraping noise over curbs and speed bumps, opt to have a smaller air dam installed.
The Volt, 6 inches shorter than a Toyota Corolla, is a four-seater. The front seats are fairly comfortable; they'd better be, for there are no power controls for the seats. The two rear seats are extra wide, separated by a console; legroom is tight.
Creating room for the battery pack pared away rear-seat space, as well as the cargo area with only 10.6 cubic feet beneath the rear hatch.
Here are the '14 Chevrolet Volt specifications:
Wheelbase 105.7 inches; Length 177.1 inches; Width 70.4 inches; Height 56.6 inches; Curb Weight 3,786 pounds; Track 61.2 inches front, 62.1 rear; Ground Clearance 3.5 inches; Turn Circle 36 feet; Engine 1.4-liter 4-cylinder range-extender, Voltec electric drive; Horsepower/Torque 149/273; Transmission CVT direct-drive automatic; Fuel mileage estimated 98 electric/38 gas; average 45.7; Fuel Tank 9.3 gallons; Wheels 17-inch; Cargo Volume 10.6 cubic feet; Warranty 3 years/36,000 miles basic, 5/100,000 powertrain; Competitors Ford Fusion Energi, Toyota Prius Plug-in, Nissan Leaf; Assembly Plant Detroit Hamtramck, Mich.; Parts Content U.S./Canada 45%, Korea 19%, Japan 17%; Base Price of Lowest Model $34,185; Base Price of Review Model $34,185; Sticker Price $39,945.
Upon shutting off the Volt, its display screen logs the "lifetime fuel-mileage average" for the car. After my last drive, it showed an average of 43.5 miles per gallon for 3,580 miles.