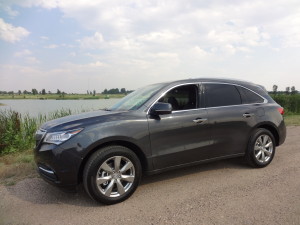 Settled into the driver's seat, enjoy the wonder of the 12-speaker, fine-tuned surround-sound audio system developed by Grammy award-winning producer Elliot Scheiner. The leather and woodgrain accents are next-best to a concert-hall setting.
And, for benefit of those passengers sitting behind, consider the new, ultrawide 16.2-inch rear DVD screen. I'd not seen a screen that wide, and it serves up wide-view movies or split-screen side-by-side videos, all for the pleasure of the second- and third-row viewers.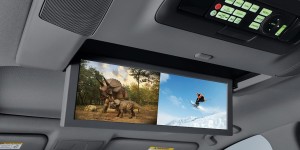 Those niceties are among highlights of the 2015 Acura MDX, a seven-passenger SUV which came my way last week.
The MDX is Acura's most luxurious showpiece. Except for a dismal year in 2009, when all auto sales were low, it has been a consistently strong seller for the Japanese firm.
The MDX has been particularly hot thus far in 2014. Having surpassed 30,000 sales in the first half of this year, it may break the MDX's annual sales record of 59,505 established 10 years ago.
Here are annual sales figures for the MDX, introduced in 2001:
2001                            40,950
2002                            52,955
2003                            57,281
2004                            59,505
2005                            57,948
2006                            54,121
2007                            58,606
2008                            45,377
2009                            31,178
2010                            47,210
2011                            43,271
2012                            50,854
2013                            53,040
2014 (for 6 months)    30,664
With a wide 66-inch track, the MDX also appears large in overall length. Its 196.3-inch length falls between its direct competitors – longer than the BMW X5, shorter than the Audi Q7.
Noticeable up front are jewel-eyed, five-beam LED headlights, three for low-beam lights and two for high beams.
Performance has changed not a great deal through the years; it is adequate with a 290-horsepower, 3.5-liter V-6 engine and 6-speed automatic transmission. Equipped with SH-AWD "super-handling all-wheel drive," it is prepared for Colorado winters. The SUV rides on 19-inch Michelins.
Moving the IDS (integrated dynamic system) button to Sport mode tightens steering and adjusts throttle response and opens opportunity to engage the small paddle shifters, which are almost hidden by the steering wheel crossbar.
It's smooth in acceleration, and carries an EPA estimate of 18/27. In a fairly even split of city/highway drives, my overall average was only 21.5 miles per gallon. When the third-generation '14 model was introduced almost two years ago, I drove one up Poudre Canyon to Cameron Pass and back and averaged 25.7.
The MDX's front seats are fairly flat and firm, with little bolstering. The center stack is split between two display screens, the upper for navigation and the lower for audio/climate. At the sides of the second-row seats, a power button will automatically flip and fold the seats to create opening into the third row. Cargo volume behind the third row is only 14.8 cubic feet; fold flat that row and the space expands to 38.4.
The addition of an Advance package, including cooled perforated leather seats and remote engine start and lane-keeping assist, and an Entertainment package of the wide rear DVD, heated second-row seats and rear door sunshades, boosted sticker price of the MDX to $56,780.
Here are the '15 Acura MDX specifications:
Wheelbase 111 inches; Length 193.6 inches; Width 74.2 inches; Height 67.6 inches; Curb Weight 4,332 pounds; Track 66.3 inches front, rear; Ground Clearance 7.3 inches; Turn Circle 37.6 feet; Engine 3.5-liter V-6; Horsepower/Torque 290/267; Transmission 6-speed automatic; Fuel mileage estimate 18/27; average 21.5; Fuel Tank 19.5 gallons; Wheels 19-inch; Cargo Volume 14.8 cubic feet behind third row; Warranty 4 years/50,000 miles basic, 6/70,000 powertrain; Competitors Audi Q7, BMW X5, Infiniti Q60; Assembly Plant Lincoln, Ala.; Parts Content U.S./Canadian 65%; Base Price of Lowest Model $44,565; Base Price of Review Model $50,840; Destination Charge $895; Sticker Price $56,780.