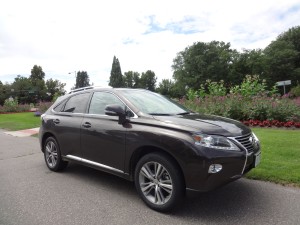 Through the past 15 years, in discussing the Lexus RX sport ute, it's been interesting to me that no one ever says anything uncomplimentary about it.
I drove a 2015 RX350, finished in "fire agate pearl" (metallic brown) color, way out southwest in Jefferson County Saturday night to a well-attended baby shower gathering for Kara and Daniel Hansen. Lots of pink wrap and glitter.
It was a couples' event and, as the evening progressed, a number of men and women mentioned what I was driving and passed on positive feelings they've acquired for the Lexus RX.
It is styled very nice, perhaps somewhat conservatively, and, after driving it for a week, I find little to complain about.
Oh, there is that noticeably meek recovery after braking at 75-miles-per-hour highway speeds; unless the driver shoves his foot deep into the accelerator, cars behind will begin to pass by the time the cruise control's resume-speed feature gets into gear. Part of that, though, is in the name of higher fuel economy, and the RX averaged 21.6 miles per gallon for the week.
And, there's the automatic transmission with six speeds and no paddleshifts, while many competitive makes have gone to 7, 8 and 9 speeds. This can be overcome, however, by opting for the RX's F-Sport version, which is equipped with an 8-speed automatic.
And, the cushy Lexus can't begin to compete with a Jeep or Land Rover in four-wheel-drive capability. It does, though, for snow and ice and other rough conditions, offer a manual-locking center differential activated from a switch on the center console.
The RX's 270-horsepower, 3.5-liter V-6 engine, 6-speed automatic transmission and full-time active torque control all-wheel drive is one of the smoothest powertrains out there, a great complement to its easy-on-the-eyes exterior. A pointy nose is highlighted by wide LED headlights and its spindle grille.
The RX, which performs very quietly, is of 107.9-inch wheelbase and 187.8-inch overall length, sized very closely to the Lincoln MKX.
Not only does the RX offer ample legroom and headroom in the rear seating area, it also has one of the roomiest cargo areas – 40 cubic feet.
New optional tri-spoke wheels are fitted with Dunlop GrandTrek Touring P235/55R19 tires. The midsize SUV has a relatively wide turning circle of 38.8 feet.
In addition to dual cupholders in the center console, a single cupholder for the driver is carved into the dash to the far left of the steering wheel. It sits, however, directly in front of an air/heat vent, blocking the cool flow in the summer. On the other hand, placed there, a very hot drink purchased in a drive-through coffee lane can be lowered to drinking temperature fairly quickly.
Among pricey options which raised sticker price of the RX350 from a base of $43,000 to $55,099 are Mark Levinson premium surround sound, navigation with traffic/weather, dual-screen rear-seat entertainment, heated and cooled front seats, head-up display, power-folding mirrors and wood/leather-trimmed steering wheel.
Also coming my way was the opportunity to drive the 2015 Lexus RX450h gas/electric hybrid SUV, which is marketed at a $5,000 to $6,000 higher price than the RX350.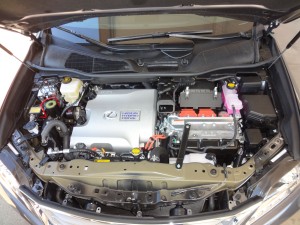 The hybrid gets off the line and accelerates more quickly than does the RX350, and the 450h excels with rating of 30 miles per gallon for in-city driving. My overall average with the hybrid, including 75 percent in-town drives, was 26.7 mpg, 5 mpg above the RX350's average.
Powering the hybrid is the same 3.5-liter V-6 gas engine as in the RX350, combined with front and rear high-output electric motors, mated to a continuously variable transmission. The 450h boasts one of the most responsive CVTs yet introduced; it, though, doesn't match the RX350's 6-speed automatic in performance. Driving modes include EV (electric), normal, Eco and Sport.
Sticker price on the 450h hybrid, not as loaded in amenities as was the RX350, is $58,315.
The RXs, gas and hybrid, are popular in upscale neighborhoods. On my occasional stops at the Cherry Creek shopping center, I always notice the abundance of RX vehicles in the parking lots there.
Here are the '15 Lexus RX350 specifications:
Wheelbase 107.9 inches
Length 187.8 inches
Width 74.2 inches
Height 66.7 inches
Curb Weight 4,178 pounds
Track 64.2 inches front, 63.8 rear
Ground Clearance 7.3 inches
Turn Circle 38.8 feet
Drivetrain All-wheel-drive
Engine 3.5-liter V-6
Horsepower/Torque 270/248
Transmission 6-speed automatic
Fuel mileage estimate 18/24
Fuel mileage average 21.6
Fuel Tank 19.2 gallons
Wheels 19-inch
Cargo Volume 40 cubic feet
Warranty 4 years/50,000 miles basic, 5/70,000 powertrain
Competitors Audi Q5, Cadillac SRX, Porsche Cayenne, Lincoln MKX, Volvo XC60
Assembly Plant Miyata, Japan
Parts Content N.A.
Base Price of Lowest Model $41,700; Base Price of Review Model $42,195; Destination Charge $910; Sticker Price $55,099.