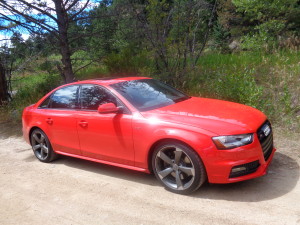 Grip the small, flat-bottom sport steering wheel, push down the accelerator pedal and feel the immediate surge of power in the 2014 Audi S4 quattro.
Audi has replaced the S4's former V-8 engine with a supercharged 3.0-liter V-6, mated to a 6-speed manual transmission (a 7-speed automatic is optional), churning out 333 horsepower and 326 lb.-ft. of torque.
The 3,850-pound sedan, in dynamic drive mode, was an impressive handler with precise steering in a drive up Boulder Canyon to Nederland and back on Saturday.
The supercharged power, belt-driven, comes on more smoothly than does the exhaust-driven turbocharging systems.
In developing the new engine for the S4, Audi engineers tested the supercharging setup against that of twin-turbo configuration; the supercharger drew favor for more responsiveness, as well as the fact it is more compact for a better fit between the cylinder banks. It is an Eaton Roots-type supercharger with two water-to-air intercoolers integrated into its housing.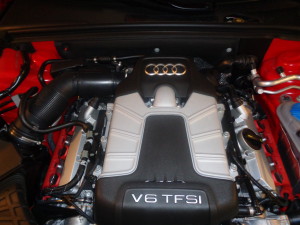 Turley's in Boulder was the choice for a late-morning brunch stop for four of us. Kim Parker was treating Ruth Davis, honoring her grandmother's 94th birthday. Jan, of course, was my seatmate.
While a basic Audi A4 quattro begins in price around $35,000, the S4 review model carried sticker value of $56,045. The difference, primarily, is the supercharged V-6 engine compared with the A4's turbocharged 4-cylinder, and the superb upgraded handling package in the S4. A tendency toward a bit of understeer in the A4 is overcome with the dynamic drive mode, which tightens steering and shores up suspension.
Titanium-finished five-arm rotor-design wheels (19-inch) were part of a $1,300 black optic package which added attraction to the misano red pearl exterior. The S4 rides on Continental ContiSportContact 255/35ZR19 tires.
Inside, S sport seats with deeply bolstered backs were dressed up in leather and alcantra. Relatively lengthy rear seat cushions added comfort in the rear. Supporting navigation with voice control were premium sound audio, AM/FM/Sirius/CD with SD card reader and music interface with iPod cable.
Three hundred miles of driving, half of that enroute to Nederland and back, averaged 22.2 miles per gallon. The S4's EPA estimate is 17/26. Here are the '14 Audi S4 quattro specifications:
Wheelbase 110.7 inches
Length 185.7 inches
Width 72 inches
Height 55.4 inches
Curb Weight 3,847 pounds
Track 61.1inches front, 60.6 rear
Ground Clearance 7.1 inches
Turn Circle 37.7 feet
Drivetrain All-wheel-drive
Engine 3.0-liter supercharged V-6
Horsepower/Torque 333/326
Transmission 6-speed manual
Steering electromechanical speed-sensitive
Fuel mileage estimate 17/26
Fuel mileage average 22.2
Fuel Tank 16.9 gallons
Wheels 19-inch
Cargo Volume 12.4 cubic feet
Warranty 4 years/50,000 miles basic, 4/50,000 powertrain
Competitors BMW M3, Cadillac CTS-V sport, Mercedes-Benz C63 AMG Assembly Plant Ingolstadt, Germany Parts Content Germany 75%, U.S./Canadian 1% Base Price of Lowest Model $34,700; Base Price of Review Model $48,100; Destination Charge $895; Sticker Price $56,045.