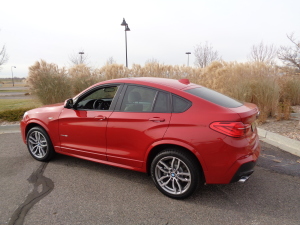 It's a beautiful finish, in melbourne red metallic, which adds $550 to its cost.
Impressive, too, is its interior, white nevada leather with red contrast stitching, and that's an extra $1,450.
It is BMW's new 2015 X4 crossover hatchback, which looks like a coupe, even with its four doors. It is styled like the bigger X6, which was introduced seven years.
Of the X6 when I reviewed it in The Denver Post of July 4, 2008, I said, "Its new look is hot as a firecracker."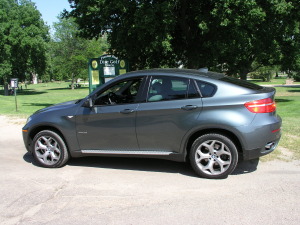 The same holds true now for the new X4, still a hot coupelike look, even in December.
Interestingly, the X6's review model back in '08 was $63,700, just $100 higher than sticker price on the '15 X4, which is a size smaller. Price bumps along the way have pushed the total on a well-equipped X6 into the $80s.
From the driver's seat of the X4, the results for pushing the Sport driving button are under-hood performances fitting of a BMW – tightened steering, stiffened suspension, more responsive shifts, capped by paddle-shift capability. Three other modes are Eco (mild), Comfort (normal) and Sport-plus (blast-off).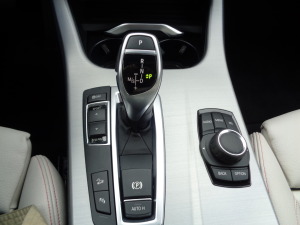 A twin-power turbocharged, direct-injection 3.0-liter, inline-6-cylinder engine mated to an 8-speed automatic transmission provides the multilevel power modes. It generates 300 horsepower and 300 lb.-ft. of torque.
BMW's xDrive all-wheel-drive system uses dynamic stability control to send torque to the outside rear wheel when cornering to improve traction, turn-in and directional stability.
The inline-6 with the 8-speed carries an EPA estimate of 19/27 miles per gallon. My overall fuel mileage average was only 21.5; I didn't often call on the Eco mode. An optional power source for the X4 is from a 2.0-liter, turbocharged 4-cylinder engine, also tied to the 8-speed.
The X4 is built on the chassis of BMW's X3 SUV and is much the same size. The X4 is a half-inch longer than the X3 and its roofline is 1.5 inches lower than that of the X3. Its roofline slopes back to the trailing edge of the tailgate; that and its low-slung structure create shallow vision out the rear window.
Among interior highlights are M leather steering wheel and M door sill finishers. The rear seat is split 40/20/40, and cargo space behind is 17.7 cubic feet. Rear-seat footroom is somewhat tight.
A few of the many options are heated front and rear seats, heated steering wheel, blind-spot detection, automatic high beams and stop/start system.
Here are the specifications for the '15 BMW X4:
Capacity 5-passenger
Wheelbase 110.6 inches
Length 184.3 inches
Width 74.1 inches
Height 63.9 inches
Curb Weight 4,260 pounds
Track 62.8 inches front, 63.4 rear
Ground Clearance 8 inches
Turn Circle 39 feet
Drivetrain All-wheel-drive
Engine 3.0-liter twin-scroll turbo inline-6-cylinder
Horsepower/Torque 300/300
Transmission 8-speed automatic
Steering rack-pinion
Suspension strut front, multilink rear
Fuel mileage estimate 19/27
Fuel mileage average 21.5
Fuel Tank 17.7 gallons, premium unleaded
Wheels 19-inch
Tires Goodyear Eagle 245/45R19
Cargo Volume 17.7 cubic feet
Warranty 4 years/50,000 miles basic, 4/50,000 powertrain
Competitors Porsche Macan, Lincoln MKC, Range Rover Evoque, Acura RDX, Meercedes-Benz GLA
Assembly Plant Spartanburg, S.C.
Parts Content N.A.
Base Price of Lowest Model $44,700; Base Price of Review Model $48,000; Destination Charge $950; Sticker Price $63,600.