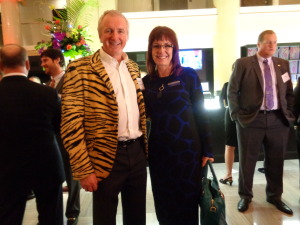 A "tiger-striped" jacket from a Pontiac promotion of years ago attracted "sideshow" attention at the annual meeting recently of the Colorado Automobile Dealers Association.
It was CADA's 100th Anniversary Gala at the Renaissance Denver Downtown City Center Hotel in the beautiful, old Colorado National Bank building on 17th Street.
Thom Buckley of Colorado Springs was introduced by 9News Meteorologist Marty Coniglio, master of ceremonies, as new chairman for CADA, succeeding Bill Hellman of Delta.
Unveiling of the book, The 100-Year Deal, and auctioning of the first three copies highlighted the business meeting. The new 336-page, coffee-table-type book features car dealers of the state and includes a reprint of The Colorado Car Book by Bud Wells,
The No. 1 copy of the book drew a high bid of $1,500 from Dean and Tracy Dowson of Golden, No. 2 went to Jeff Carlson of Glenwood Springs for $1,200 and No. 3 to John Medved of Golden for $800.
Heading the book project was Tim Jackson, president of the CADA, assisted by Tim Coy, Caroline Schomp and Bud Wells.
Speakers discussing cars, dealers and consumers of the future were Glen Mercer of Cleveland, president of GM Automotive, an auto industry consulting firm; Paul Eisenstein, reporter, publisher and chief of The Detroit Bureau, and Charlie Vogelheim, host of Motor Trend Audio, Los Angeles.
The "tiger-striped" jacket was worn to the gathering by Michael Payne, owner of Mountain Chevrolet in Glenwood Springs. Jackets like that were worn by Pontiac salesmen in the mid-1960s as part of an aggressive tiger advertising theme, a promotion of John DeLorean, chief engineer at Pontiac. Payne's father, Leo Payne, was a Pontiac dealer in the '60s, operating Clark-Payne Pontiac on West Colfax.
The jacket drew all sorts of responses at the party; Michael Payne said a couple of persons who didn't know him thought "that I must be a member of the band."