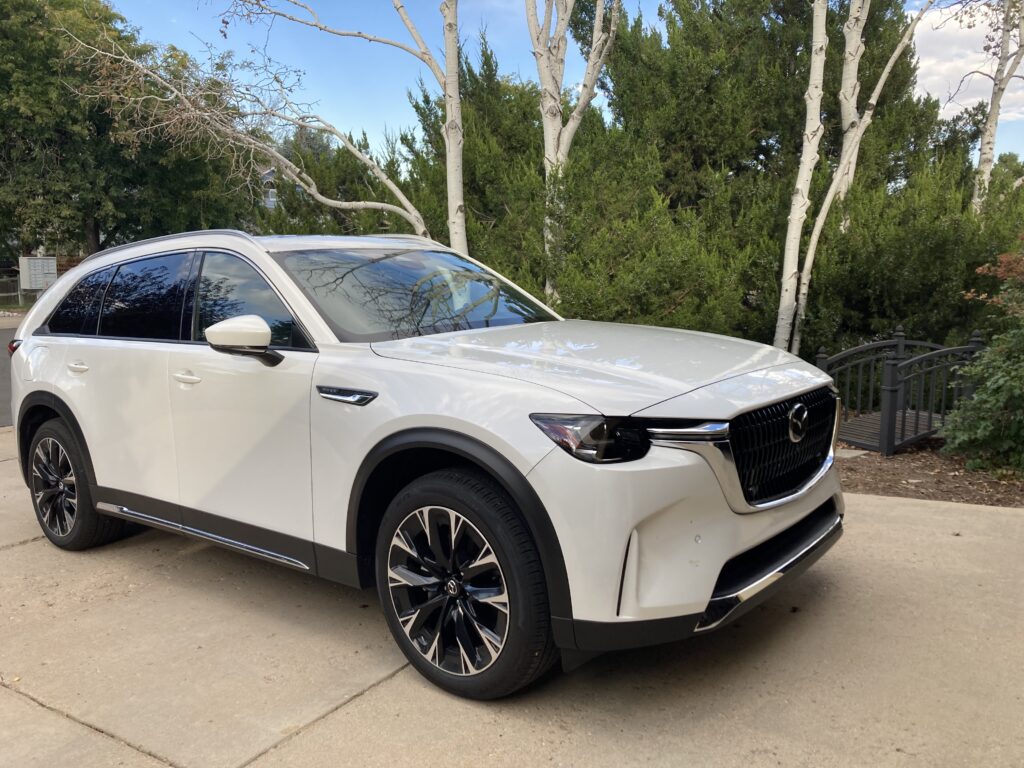 Offering a PHEV plug-in hybrid option to the new 2024 Mazda CX-90 three-row crossover seems timely, particularly since the Japanese firm aspires to a premium product ranking, just a notch below the luxury field.
The '24 CX-90 replaces the '23 CX-9 in the Mazda lineup. The new one is 2 inches longer in overall length and its interior is finished luxuriously. It is built in Hofu, Japan.
Strong performance is delivered from a 323-horsepower, 2.5-liter 4-cylinder engine, an electric motor, 8-speed automatic transmission, paddle shifters and a battery pack of 14.8 kWh energy capacity. It is standard all-wheel drive. With all that, its curb weight is a heavy 5,236 pounds.
It is quick-charged in a couple hours overnight with a Level 2 charger. Its electric range, though, is only 26 or 28 miles. When you look out at all those other pluggers, including Ford at 37 miles, Volvo 41, Toyota 42 and 46, it seems 26 might be insufficient.
Three times I charged it full to 26, 28 and 29 miles, and mixing together all the driving of the week was an average of 39.4 miles per gallon. It is rated at 56 MPGe and 25 miles per gallon for gasoline usage.
Its shift sequence is somewhat odd, in that the lever, from Drive, moves forward to Reverse, then left to Park. The 90-degree turn requires a moment stop at Reverse. Drive modes include Normal, Sport, Offroad, Towing and EV. Tow capacity is 3,500 pounds.
The review model delivered to me is the high-end PHEV Premium Plus, sticker-priced at $58,920, including 12.3-inch center display, lane-departure warning, 21-inch wheels, heated and ventilated nappa leather seats, and on and on. Lesser-equipped PHEV trims begin around $7,000 cheaper. Gasoline-only models are powered by a 3.3-liter, inline-6-cylinder, and base trim begins in the low $40,000s.
A delay in the Mazda key pod in its intended unlocking and locking, leaving the charge connector secured to the rear-fender receptacle, caught the attention of Leonard, a neighbor/friend, who was walking past my opened-door garage. We tried again, the doors unlocked, the plug pulled right out, we hung-up the cord, put things away and Leonard sat down for a cup of coffee.