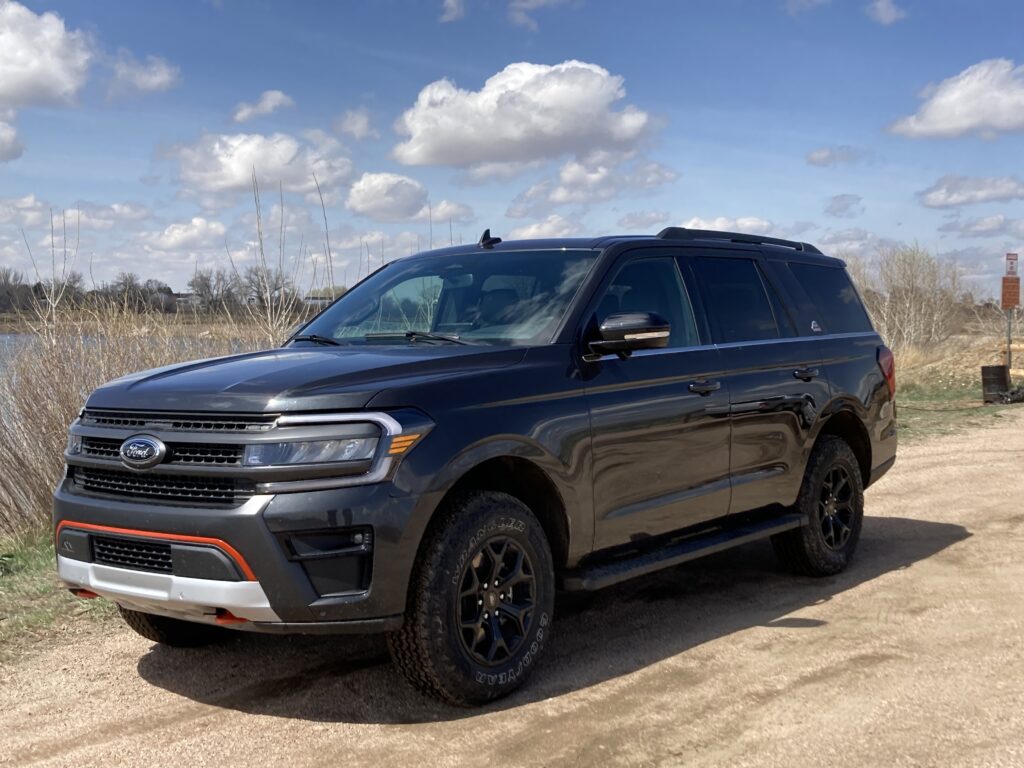 With its relatively new Timberline trim, the 2023 Ford Expedition is a strong competitor against the Jeep Wagoneer, Chevy Tahoe and Suburban, GMC Yukon, Toyota Sequoia and Nissan Armada among full-size, four-wheel-drive SUVs.
The big body-on-frame Expedition is reinforced with offroad chops from Timberline, including tuned suspension and shocks, increased ground clearance, shorter approach and departure angles, two-speed transfer case, steel skid plates, electronic limited-slip differential, tow hooks and all-terrain tires.
The eight-passenger sport ute casts a large presence, standing 6½ -feet high, 210 inches in overall length and curb weight of 5,625 pounds. Available also is the Expedition Max, a foot longer in length and wheelbase of 131 inches, compared with the Expedition standard of 122.5.
"Plenty big enough," I say of the standard Exped, during my review. A high-output, twin-turbocharged 3.5-liter V-6 EcoBoost engine delivers 440 horsepower/510 lb.-ft. torque, with 10-speed automatic transmission.
Handling of the Expedition, not surprisingly, is like most big, heavy SUVs, a bit of understeer at times. Lane centering is controlled very smoothly, with little wander. Ride comfort is soft, right up there with the Tahoe and Yukon. The Expedition can tow up to 9,300 pounds.
Open the driver door, step up onto the platform running board, sit down in the pilot's seat and instantly focus on the huge, 15.5-inch, vertically positioned infotainment screen. The LCD screen is part of a special package of options which boosts the price past $80,000 from a base of $71,400. Included are panoramic vista roof, the running boards, trizone electronic temp control, Bang & Olufsen premium sound, remote start, heavy-duty radiator, second-row heated seats and third-row power-fold seats.
Bill and Kathy Allen joined Jan and me for a drive to Sterling, where we visited with Dave and Norma Wagner, Rick and Jana Lock. Even with the 200-mile roundtrip highway run, the Expedition was disappointing in overall fuel mileage – 15.6 mpg. Its EPA estimate is 15/19. The SUV rides on Goodyear Wrangler 265/70R18 tires.
Sticker price reached $83,505 for the Expedition Timberline. Less expensive trim levels are XL, XLT and Limited; higher trims are the King Ranch and Platinum. XL pricing begins around $57,000 to $58,000. The Expedition is produced at a Ford plant in Kentucky.
The Expedition has been around for more than 25 years. When it showed up in the fall of 1996 as a '97 model, we spent a vacation week driving it to Durango and back. That one was 6 inches shorter in overall length than today's model. It was equipped with a 4.6-liter V-8 engine with tow capacity of 6,100 pounds, compared to today's 9,300 tow capacity with the EcoBoost V-6.