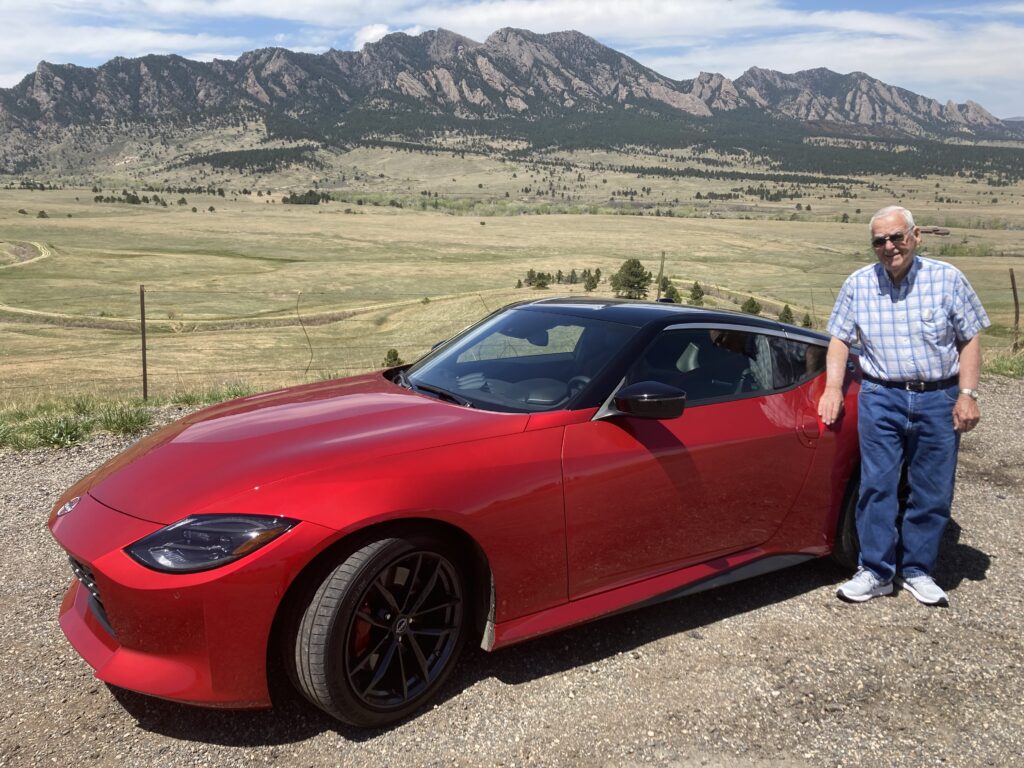 Nissan communications executive Steve Parrett handed me the keys to "the new Z" only a few minutes after I had seated myself very comfortably inside the old Boulderado Hotel one morning in May.
A quick exit got me into the driver's seat of the beautiful passion red 2023 Nissan Z Performance sport coupe, where the comfort level also was pleasurable, though one look at the instrumentation, shifter and pedals and, considering its rear-wheel-drive configuration, promised some side antics.
The 400-horsepower, twin-turbo 3.0-liter V-6 engine and 9-speed automatic transmission got me very quickly out of Boulder for photo op, then back into town and over to Canyon Boulevard and some miles up and back in Boulder Canyon. The canyon drive from Boulder to Nederland is 17 miles of twists and turns and downshift-inducing rises in the narrow roadway.
The Z was smooth and powerful and quick-shifting, though a bit rough on downshifts in manual mode.
Accompanying me on the test-drives about the Boulder area was Paul Shippey, owner and president of Automotive Media Solutions (AMS). Under direction of Shippey and his general manager, David Polley, AMS distributes new models to journalists such as me from 22 manufacturers, everything from an A-Class Mercedes to the Z car from Nissan.
You can't yet buy a new Z; its release date has been delayed to sometime this summer. When you can make the purchase, here is what you'll pay:
$41,015 is base price for the cheaper Nissan Z Coupe Sport; $51,015 is beginning price for the Z Coupe Performance model, the one I drove, and $54,015 for a special Z Coupe Proto Spec edition. All three trim levels are available with 6-speed manual or 9-speed automatic transmission to go with the twin-turbo V-6.
Adding illuminated kick plates, two-tone paint and floor mats to the Z that I drove raised its sticker price to $53,610. Included among its standard items are 9-inch touchscreen with navigation and voice recognition, Bose audio, SiriusXM satellite radio, Apple CarPlay and Android Auto connectivity.
I remember those "kind of loose, spindly shifters" in the early 240Zs from the '70s. Nissan (known as Datsun at the start) continued use of alphanumeric names through the 370Z until its end in 2020. The new one will be simply called "Z." Its 9-speed automatic replaces a 7-speed of the 370Z.
The 370Z competed against the Mazda Miata and Toyota 86; the new Z will challenge the Toyota Supra head-on. The Supra uses a BMW-built, inline-6-cylinder of 382 horsepower with an 8-speed automatic.
At 172.4 inches, the Z is 5 inches longer than its predecessor, though its wheelbase remains the same at 100.4 inches. Trunk volume is only 7 cubic feet. Curb weight is 3,550 pounds.