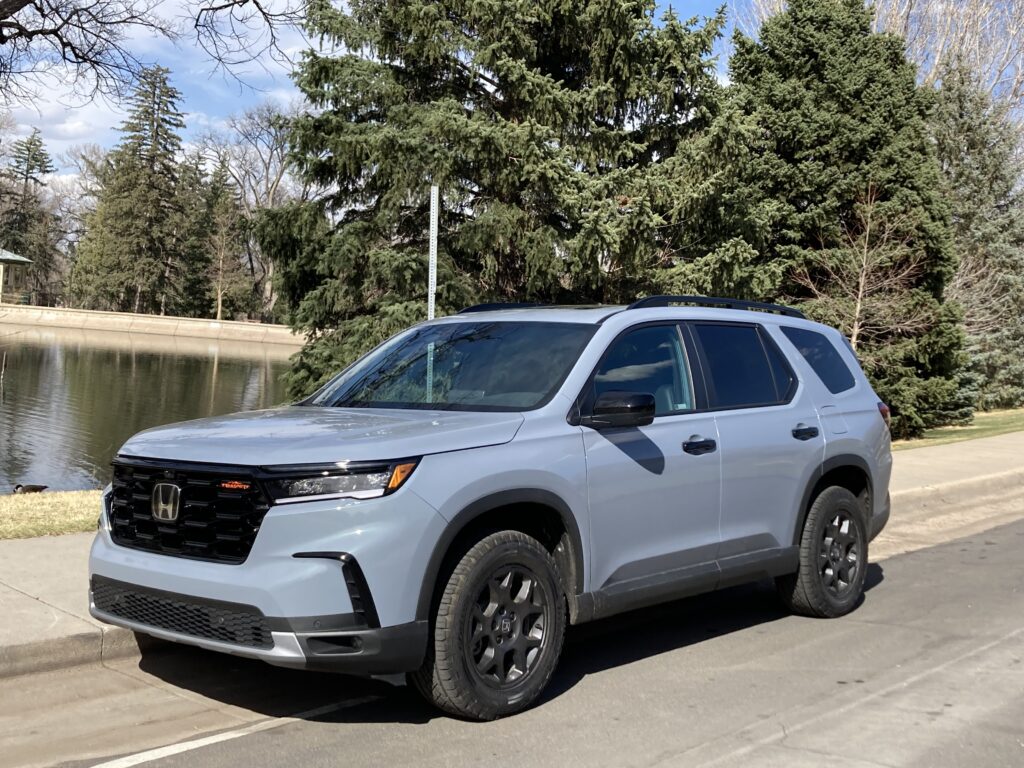 The fourth-generation 2023 Honda Pilot showed up larger in size and noticeably improved upfront with a newly designed, more upright grille, departing from the long-used horizontal-bars-type. Its exterior structure is somewhat boxy, like a Kia Telluride or Nissan Pathfinder.
Looking a bit more rugged in TrailSport trim, the new Pilot is 200.2 inches in overall length, almost 4 inches longer than the '22 version, and its wheelbase has increased by 2 ½ inches.
Smoothness of shifts has improved with a 10-speed automatic transmission replacing last year's 9-speed; the 3.5-liter V-6 engine develops 285 horsepower, 5 more than a year ago.
The Pilot review model is front-wheel-drive based and is equipped with all-wheel-drive capability.
Even helped by a 100-mile round-trip drive to Thornton, the Pilot managed only 19.7 miles per gallon overall in the week of my possession. Its EPA estimate is 18 city/23 highway/20 average.
The Thornton run was to the home of Dan and Jamie Johnson last Saturday for celebration of the 97th birthday for my longtime friend, Richard Johnson. Dick and I worked together on the city desk at The Denver Post in the early 1970s (the latter days of columnist Red Fenwick). Johnson in later years became a features writer for the paper's Empire Magazine.
The Pilot isn't intended as an offroad competitor of Wranglers and Broncos, though with the new Trailsport trim its suspension has been lifted an inch, it has steel skid plates and Continental 265/60R18 all-terrain tires. Max tow capacity for Pilot AWD models is 5,000 pounds.
The dressed-up interior features a 9-inch color touchscreen with surround-view camera, wireless Apple CarPlay/Android Auto/phone charger, heated steering wheel. By touching CabinTalk icon on the home screen, front-seat driver or passenger are able to speak to rear-cabin occupants through audio-system speakers or headphones.
From the added length of the new Pilot comes roominess and more comfort in the second- and third-row seats. The third row has more shoulder room and legroom than that in the Toyota Highlander. Push a button and second row seatback leans and entire captain's chair slides forward to allow ease of entry into the third-row seating. Cargo space behind the third row amounts to 18.6 cubic feet and 48.5 feet with the seats folded.
Sticker price on the '23 Pilot AWD TrailSport is $50,150. Cheaper trim levels are Sport and EX-L; more pricey than the TrailSport are the Touring and Elite.
Honda, after rebadging the Isuzu Rodeo as a Honda Passport from 1993 to 2002, fully joined the midsize SUV competition in 2003 with its first Pilot. Originally produced in Alliston, Ontario, it has since 2007 been built in Lincoln, Ala. This year's Pilot is a foot longer than the original 20 years ago.