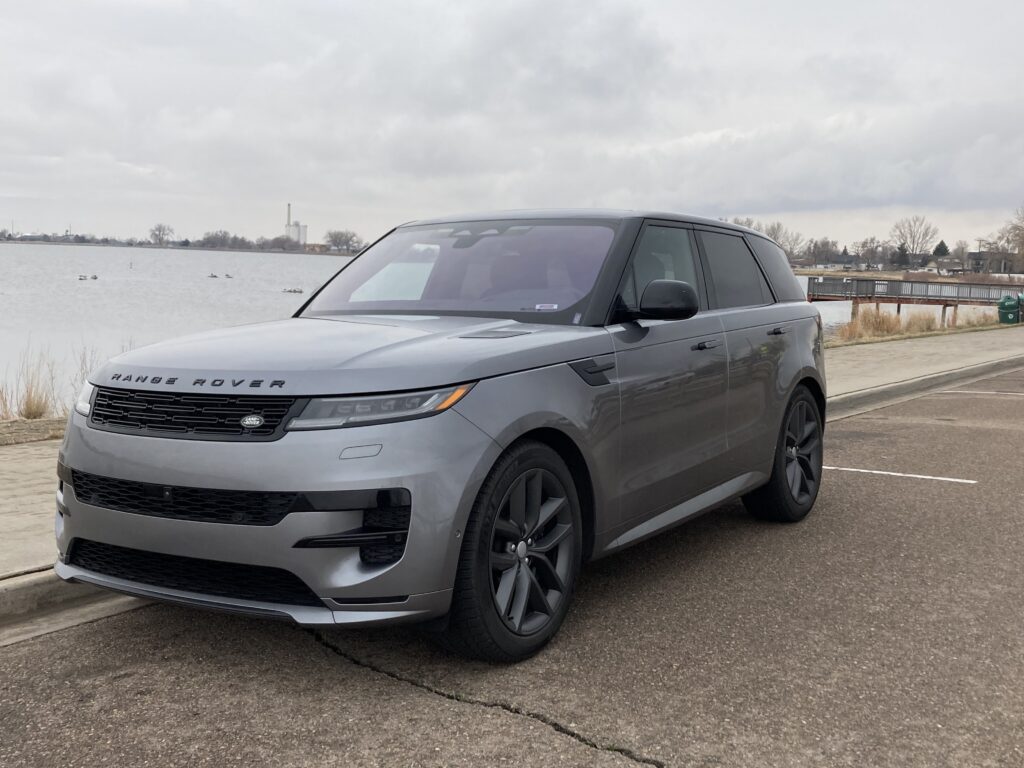 Add 23-inch wheels and an extraordinarily long rear spoiler to the muscularly redesigned 2023 Range Rover Sport and its imposing presence raises the question: Has the Sport moved into the full-sized Range Rover's territory, sizewise?
A glance at the spec sheets for the two dispels the urge to park them side-by-side; the big daddy Range Rover still rules. The Sport, at almost 195 inches in overall length, is a foot shorter and 300 pounds lighter.
Underhood in the '23 Range Rover Sport SE Dynamic, which I drove in March 2023, is a 3.0-liter turbocharged and supercharged inline-6-cylinder of 395 horsepower/406 lb.-ft. torque mated to an 8-speed automatic transmission and all-wheel drive.
Stronger V-8 power is still available in the Range Rover Sport, along with a couple hybrid options; next year is expected to bring an all-electric Sport to the lineup.
Performance is satisfactory from the word "go," when the supercharger boosts early, then the turbo takes over at midrange. Tied to the AWD setup are selectable terrain choices, with the V-6 power lending smoothness. My overall fuel mileage average was 23.2; the Sport's EPA estimate is 18/26 mpg.
The well-balanced Range Rover Sport, with air suspension, offers a comfortable ride, highlighted with an interior of plush Windsor leather, power reclining heated rear seats and Meridian sound. The five-passenger interior is attractive, except for the cheap-looking upper panels on the doors, durable but cheap.
The Range Rover Sport reached $100,085 in sticker price with the addition of the wheels, head-up display, heated washer jets, heated steering and pixel LED headlights. Included as standard items are panoramic roof, power sunblind, Apple CarPlay/Android Auto/Amazon Alexa integration, rain-sensing wipers and safety aids adaptive cruise with steering assist, emergency braking, lane-keep assist and traffic-sign recognition.
The Range Rover Sport is built in Solihull, United Kingdom. Among competitors in the luxury midsize SUV field are Mercedes GLE-class, BMW X5, Audi Q7, Porsche Cayenne, Genesis GV80, Lincoln Aviator, Volvo XC90, Lexus RX350 and others.
Reader responds
Bud: I'm a loyal reader of your Saturday feature in The Denver Post; regarding one-pedal driving as you mentioned in your review of the Nissan Leaf. I hear lots of reviewers talk of one-pedal driving with electric cars, but, I wonder, how does the person behind in traffic know when you're braking? If you're not pushing the brake pedal to slow down or stop, your brake lights won't let the cars behind you know that you're about to slow down. This seems like a serious safety concern. Thanks. – George B.
Well, George, when using one-pedal driving, the brake lights will function as if the driver is using the traditional hydraulic brakes. The brake lights illuminate when the accelerator pedal is released, making drivers behind the car aware that it is slowing down.