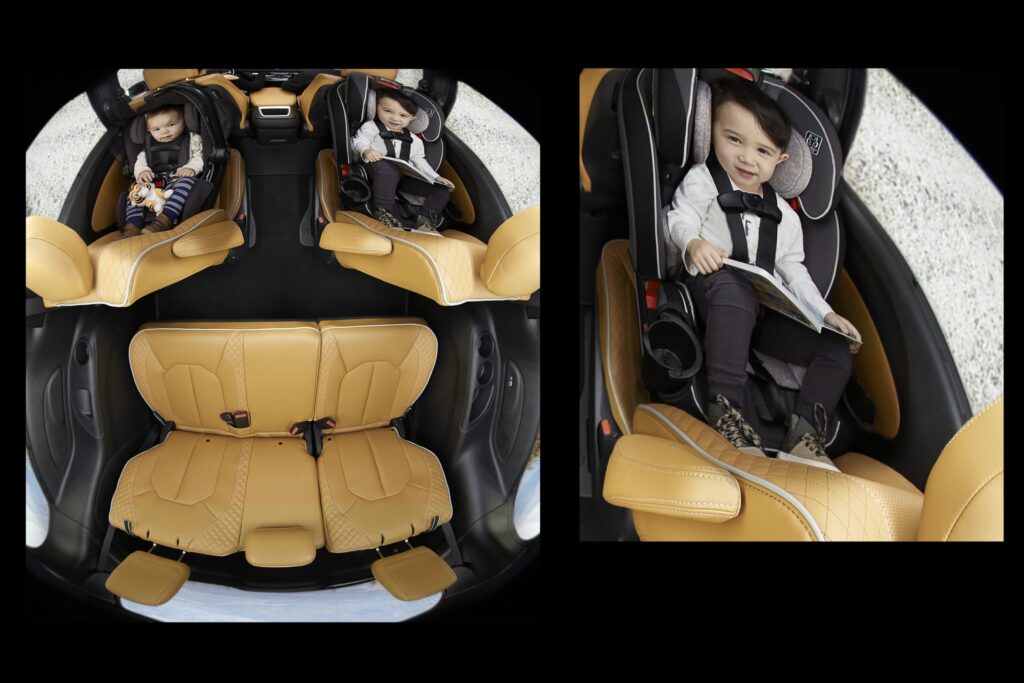 Twenty-five years ago, it was the panoramic convex mirror (a 'fisheye' mirror) attracting attention in the 1998 Ford Windstar minivan.
Today, it is a feature called FamCam, a black disc in the headliner of the 2023 Chrysler Pacifica that contains cameras for viewing each seat in the rear of the van.
It was and is all about "keeping an eye on the kids" in the second and third row of seats.
The disc, positioned overhead between the second and third row of seats, will show an overall image of the rear seats, and a zoom option will focus on any one of the individual seats, including even a rear-facing child seat. The images are viewed on the infotainment screen in the front dash of the minivan. Infrared camera views are provided in nighttime driving.
The Ford convex mirror from the late '90s dropped down out of the overhead console to give the driver virtually complete view of the inside of the minivan. It gave a wide-angle reflection of everyone, from the front-seat passenger to those in the second and third rows. It covered from side-to-side, top-to-bottom.
The Ford Windstar was produced from 1995 to 2003. In calendar year 2000, the Windstar sold 222,298 minivans, second only to the Dodge Grand Caravan, which sold 285,739.
The FamCam interior camera in the 2023 Chrysler Pacifica is part of an optional Uconnect Theater Family Group, which for an added $3,295 also includes 19 Harman Kardon speakers with subwoofer, power-folding third-row seat, integrated vacuum, seatback video screens and Blu-Ray DVD player.
The Honda Odyssey and Kia Carnival also have optional rear-seat viewers; Honda's is called Cabin Watch and Kia's is Passenger View.