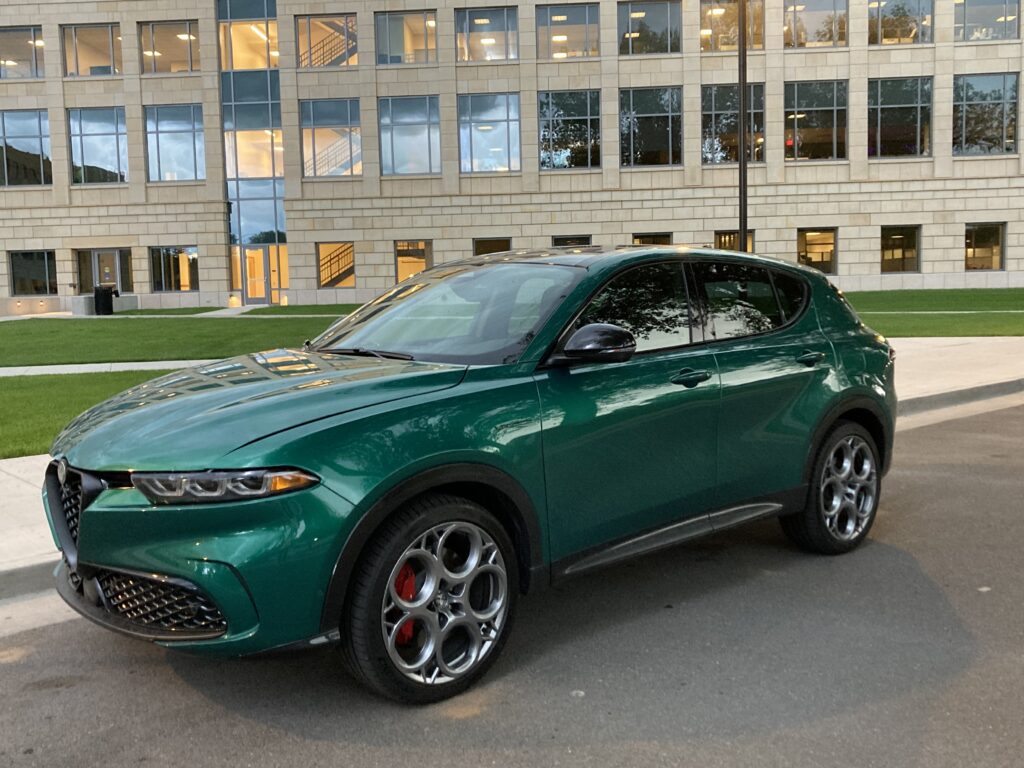 The 2024 Alfa Romeo Tonale Veloce showed up at my house on the first day of June and attracted attention everywhere I drove it, partly for its recognizable triangular grille, for its verde green finish and for its distinctive 20-inch, five-circle wheels.
Named for a high mountain pass in Italy, the Tonale SUV crossover is similar to the new Dodge Hornet; they're produced in Naples, Italy. The Tonale I drove is a plug-in hybrid, offering up to 30 miles of all-electric charge.
Jan joined me for a drive north into Wyoming, only as far as Cheyenne.
After dinner, we left the Rib and Chop House restaurant in downtown Cheyenne as dark clouds rolled overhead; just out of the city heading south on U.S. 85, we hit heavy rain for about 15 miles. The Tonale had little problem with the water in roadway, but that and the downpour led to a message, "Driver Assist System Unavailable. Service Required." " When I asked of this later, Ross Littman, Alfa Romeo product manager, explained, "As with all modern vehicles, heavy rain can obscure the forward collision warning sensor's ability to 'see' the road; the car was simply warning the driver that the forward warning and automatic emergency braking are unavailable due to the severe weather conditions and driver should be alert."
Once we passed through the rain onto dry pavement, the message was gone, all systems including cruise worked fine, no problem.
Lifted by the 30 miles of electric range, the mpg for the 118.4-mile trip was 41.2. The plug-in hybrid technology performs with a 1.3-liter turbocharged 4-cylinder combined with a 15.5 kWh battery, the gas/battery combo producing 285 horsepower and 347 lb.-ft. of torque.
Being built alongside the Alfa Romeo Tonale in a Stellantis factory in Naples, Italy, is the Dodge Hornet. Base engine in both models is a 2.0-liter turbocharged 4-cylinder; also offered are plug-in powertrains for up to 30 miles of all-electric travel.
Beyond those similarities, the Tonale interior is dressed up for the luxury field, competing with Audi Q3, BMW X1 and Mercedes GLA. The Hornet will go against Mazda CX-30, Honda CR-V, Toyota RAV4 and Hyundai Tucson.
I've enjoyed my time in the good-handling Tonale, which has drawn a good measure of interest everywhere it's been. The Tonale, listed as a compact, is 8 inches shorter in wheelbase and overall length than the Alfa Stelvio SUV crossover which I tested several years ago.
The Alfa Romeo paddle shifters are very large; they're column mounted, stationary compared with much smaller paddles mounted on the steering wheel. I prefer the smaller paddles.
Pricing for the Alfa Romeo Tonale begins at $44,590 for the Sprint trim; the model I drove is the top Veloce level, which begins at $49,000 and with several options climbed to $54,500.