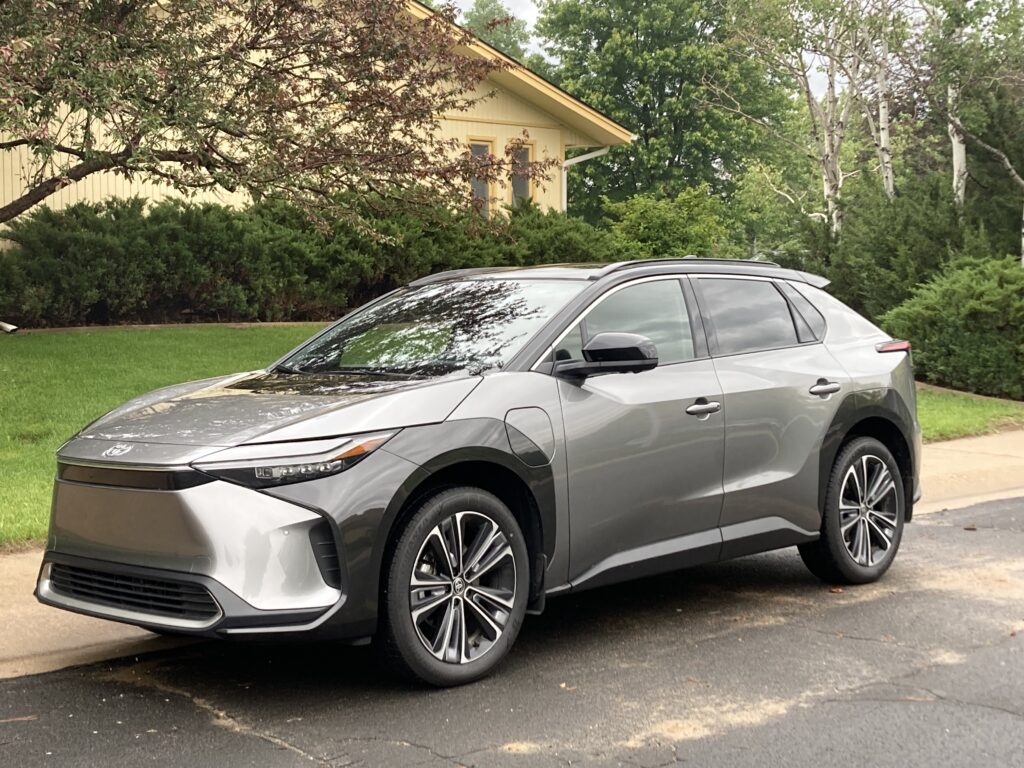 The bZ4R is #2,600 for B.W.
It is the 2023 Toyota bZ4R Limited all-wheel-drive, all-electric compact SUV, being produced jointly with Subaru, which calls its version the Solterra. They share the same platform and are built at Toyota's Aichi plant in Japan.
Following several months since introduction, Toyota has sold 3,000 of its bZ model; Subaru 2,400 of its Solterra. Toyota offers its electric in front-wheel or all-wheel configuration, while Subaru's, like its other products, is AWD-only.
Toyota explains its puzzling nomenclature, saying the bZ is for "Beyond Zero," the company's commitment to go beyond producing carbon-neutral vehicles, and actually having a net positive impact on the environment.
The bZ4R AWD uses an 80-kilowatt electric motor at each axle for a total of 214 horsepower. On the front-drive versions, one motor of 150 kilowatt puts out 201 hp. The Toyota offers regenerative braking and several drive modes, including Normal, Eco, Snow and Boost.
I made a drive to Sterling, with Jan and daughter Kim Parker, to check on sister Norma and brother-in-law Dave Wagner, as well as a stop for Justin Weber, a Sterling High classmate and friend, who is getting back on his feet after a seven-week hospitalization.
The bZ4R Limited's estimated range for the 63.4-kWh battery pack is 222 miles. A bit more than half of that was used on the drive down, including a short run about town and a diversion to the Logan County Burrito Company.
Heavy rain, wet roads and use of wipers and headlights required increased use of energy from the battery pack on the drive back to Greeley. We had replenished the pack at Sterling's newest charging station across street from former Bill's Motor Company Cadillac/Oldsmobile dealership.
There is no glovebox in the four-door electric, in order, I guess, that the front-seat passenger has ample legroom. Glossy black piano trim on the center console reflected glare from the sun during midday driving, and also easily collected fingerprints.
Handling in the turns and stop-and-go traffic is good, acceleration is very good. The bZ's rear-seat ride level is among the rougher I've tested. Of course, the Toyota wouldn't be expected to compare with a Mercedes EQS; I didn't think, though, it matched up in comfort and support with the Ford Mustang Mach-e. That is in the rear-seating area, front seat is fine.
The extra cost for the all-wheel-drive option is $2,080. That, along with JBL premium audio, heated rear seats and rear spoiler raised sticker price to $52,583.
The bZ is 184.6 inches in overall length on a wheelbase of 112.2 inches and curb weight of 4,398 pounds. Once past the unadorned nose of the new Toyota, the styling is excellent.
The drive of the bZ4R is the 2,600th car or truck I've reviewed since the mid-1970s.