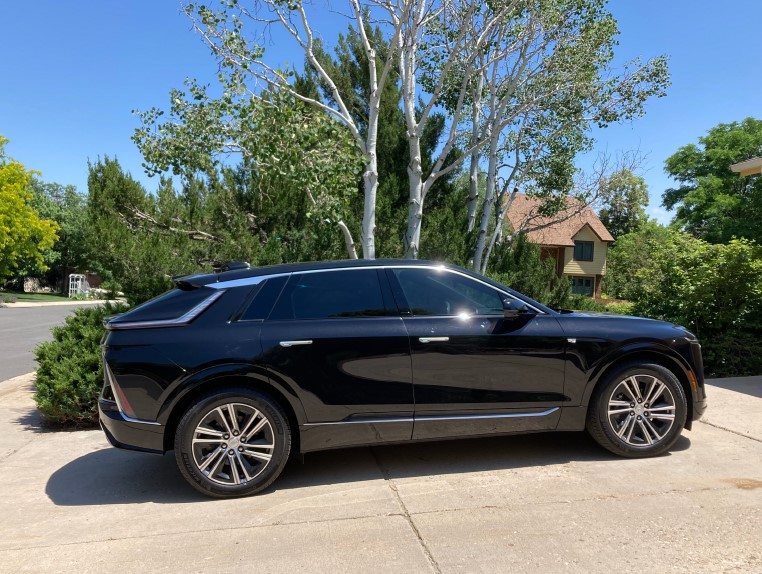 Other than some tire/road noise, the drive of one of the newest electric autos, the Cadillac Lyriq, to one of the oldest restaurants, the Pepper Pod at Hudson, was a finely charged performance with gentle ride.
The Lyriq is Cadillac's first-ever electric automobile; it offers an estimated driving range of 314 miles from its 12-module, 100 kWh battery pack. The rear-wheel-drive SUV is smooth, of course, and roomy and fairly quick with a 340-horsepower electric motor at its rear axle. An all-wheel-drive version is also available.
I picked up the luxurious Lyriq from Bob and Erick Ghent at Ghent Motors in Greeley. I'd seen one other some months earlier at an unveiling at Elway Cadillac at Park Meadows in Lone Tree.
It's not as quick as a Mercedes EQS, but let me remind you – the two EQS models I've driven were priced at $122,100 and $158,780; the sticker on the Lyriq is $63,725. At that price range, the Lyriq is a competitor of the BMW i4 electric.
The drive to Hudson and back home was pleasant; the Lyriq displayed an ease of lane correction and, when used, very strong regenerative braking. I opted for sport mode much of the run; that negates an immediate braking on deceleration, allowing a more-steady highway speed.
A beautifully finished black crystal grille which lights at night is an attraction for the Cadillac. It has no frunk (front-end trunk). The luxury model is 196.7 inches in overall length on a wheelbase of 121.8 inches. In its stellar black metallic finish, it has a lengthy look.
It's when walking up to a rear door that it becomes somewhat uncanny. I touch what appears to be a door handle, the door pops open a bit and I must grab hold of the edge of door frame to pull it wide open. Rumor has it that Cadillac will replace the "touch-and-grab" system with an actual door handle for the future. That makes sense.
Austrian studio microphone and headphone maker AKG made its debut with Cadillac in an Escalade a couple of years ago, and has been a resounding success in the Lyriq, as well. Among 19 speakers are a pair in each of two front-seat head restraints. A 33-inch diagonally advanced LED display, a large glass roof and massaging front seats are other interior highlights.
Cadillac's first all-electric, Lyriq, is built on the Ultium platform, as is the Chevy Silverado EV. The Ultium lithion-ion battery system is in production at the GM Spring Hill plant in Tennessee.
Base price of $62,990 for the Lyriq Luxuy RWD model is boosted to $63,725 with the addition of the special stellar black metallic finish, cargo net and first-aid kit. The AWD version carries a $2,000 premium.