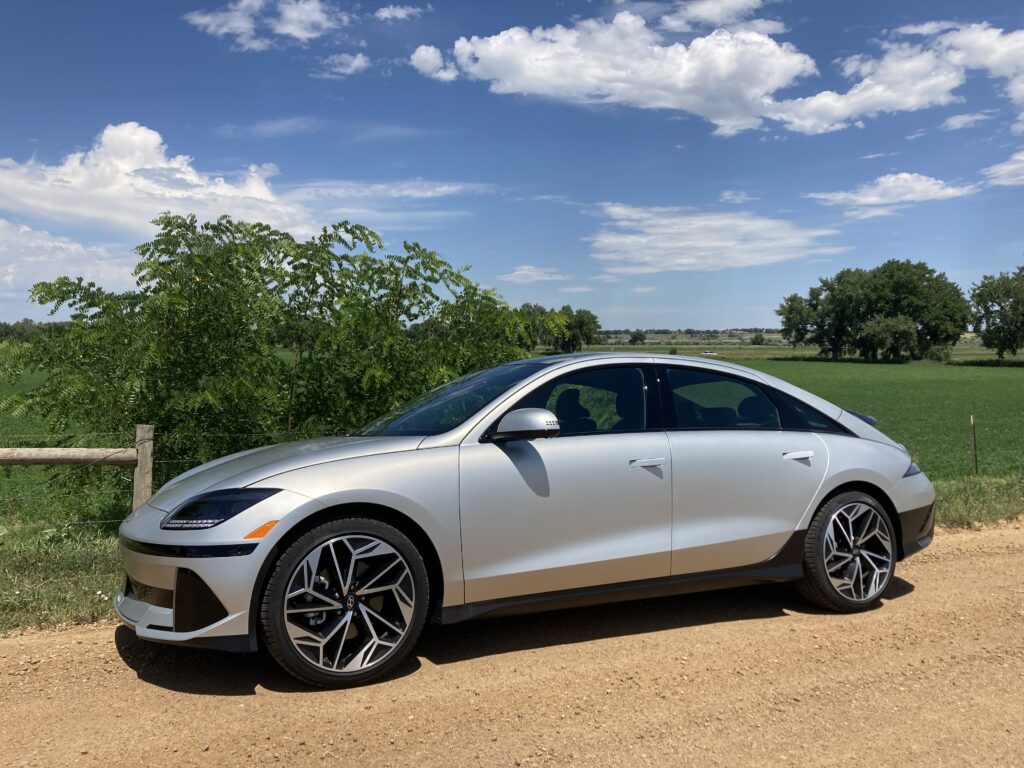 Though 2 inches shorter in wheelbase, Hyundai's new 2024 Ioniq 6 sedan is almost 9 inches longer in overall length than the Ioniq 5 crossover.
Jan and I enjoyed a very smooth drive with the Ioniq 6 from our home up north, heading across U.S. 34 to busy I-25 and on south to Longmont. For the return, we selected the more leisurely U.S. 287 from Longmont to Loveland, then home via U.S. 34.
Comfort and ride quality are positives for Ioniq 6, which is based on the Hyundai platform, E-GMP, which also serves the Ioniq 5, Kia EV6 and Genesis GV70 electric.
The Ioniq 6 is one of the most aerodynamic production sedans ever built. With its extended length, it is generally roomier than the Ioniq 5, other than headroom for which the 6's sleek, low-slung style is costly.
The I-6 slots high in my book covering the many all-electric models I've driven in the past three years. But I must ask, "Is anyone buying sedans these days?"
Even the Hyundai's sticker price of $58,425 seems in line with competitive electrics.
The sedan's all-wheel-drive capabilities come from dual electric motors and a 77.4 kWh battery. Active air flaps in the front bumper open when the battery pack is in need of extra cooling.
Hyundai has a quick, easy charging system. A DC fast charger can reach 80 percent capacity in as few as 18 minutes; a Level 2 home charger can attain full charge in approximately seven hours.
I was unable to accomplish any relatively quick recharging of the Ioniq 6 from my home-base garage, for Hyundai didn't provide an adapter for mating up with my 220-volt receptacle. The Ioniq's charging cord was fitted for 120-volt engagement, which is so much slower than the 220. I was able to maintain near-full range with the Audi Q8 e-tron quattro the previous week, for an easy-to-use adapter was part of the car's charging assembly.
With key in pocket, approach the Hyundai car and door handles, flush with the door skin, pop out for use in opening; switches for operating the front windows are positioned in the center console.
Twin ducktail spoilers draw attention to the rear of the vehicle at night with special lighting. Other features include auto-dimming rearview mirror, 12.3-inch digital instrument cluster, rain-sensing windshield wipers and Bose premium audio.