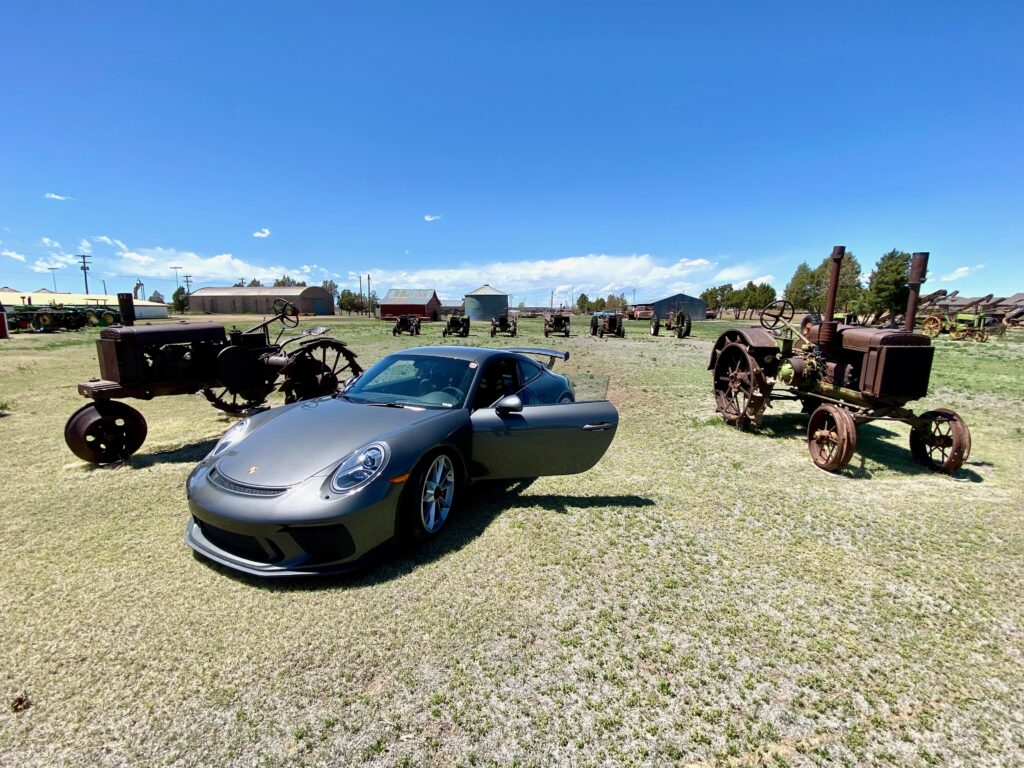 We're all saddened by the death of John Fielder, Colorado's eminent nature photographer.
Jan and I, daughters Kim and Kathy and son-in-law Bill Allen were in line at Union Colony Civic Center in Greeley a couple years ago for John Fielder to sign our copies of his new book, "Weld County: 4,000 square miles of grandeur greatness and yesterdays."
He had just signed a book for Tom and Jana Caldwell, we stepped up, I said, "Bud Wells," and he said, "Ah, my favorite car guy."
Then, in a much quieter voice, he added, "Few people know this, I'm somewhat of a car guy, too." And since that moment, John and I have been on the same page.
So much so that in early May, he sent to me a photo of him with his car and a bylined accompaniment to be used as lead-in for a chapter entitled 'My Favorite Car' in my book "2,600 Cars and a Dog Sled," scheduled for publication in September or early October.
The thought of him participating in the upcoming book was mentioned earlier this year; here is his response:
"Hi Bud…it is good to hear from Colorado's car guy. What a great career you've had. Thanks for pat on back and for keeping my love of cars to vest. For sure happy to contribute as you ask. Can there be a caption that explains my connection with sports cars (I grew up in Charlotte and was smitten when Holman Moody Racing allowed me and my high school buds to sit in 1967 Ford GT40s they were preparing for Le Mans!)? This would help anyone perhaps who sees me driving a sports car as antithetical to my environmentalism. What is deadline for a photo? Thanks, John
He sent an excellent photo of him and his car in the first week of May, and I sent back this note:
A great photo, John, excellent text to accompany it, what a wonderful lead page it will be for a chapter on 'Favorite Cars.' I wish you improved health and my prayers will be with you. – Bud
On May 10, I received this note from Fielder to explain a photo he sent of the Porsche and old tractors – "I took the car east and driving through Bennett I found this field of old tractors and sent it to my car friends with a note that I had outrun them all…"
Our last exchange was in late May: John, a wonderful piece by Bruce Finley (Denver Post). I was thinking back to my start at the Sterling Journal-Advocate in 1956. Our cameras were two 4X5 Speed Graphics, nice to have the large negatives, but lugging those heavy cameras and the wood slides, my gosh. I finally bought in 1964 a Yashica Mat, cheaper version of Rollieflex, and used it for several years. – Bud
And this response from Fielder: "Hi Bud…so you were a trooper hauling a 4×5 just like me. Welcome to the sheet film world. Mine was a German Linhof and I used it for 25 years. Bulletproof for wilderness pitfalls, literally. I needed it for the amount of detail it could capture…" – John
John Fielder sent photo and accompanying text to me to fill a lead page in the chapter My Favorite Car for the book, "2,600 Cars and a Dog Sled: Bud Wells' 67 Years in Newspapering and Automobiles," scheduled for publication late next month or early October.
For more information, contact Bud Wells at [email protected].