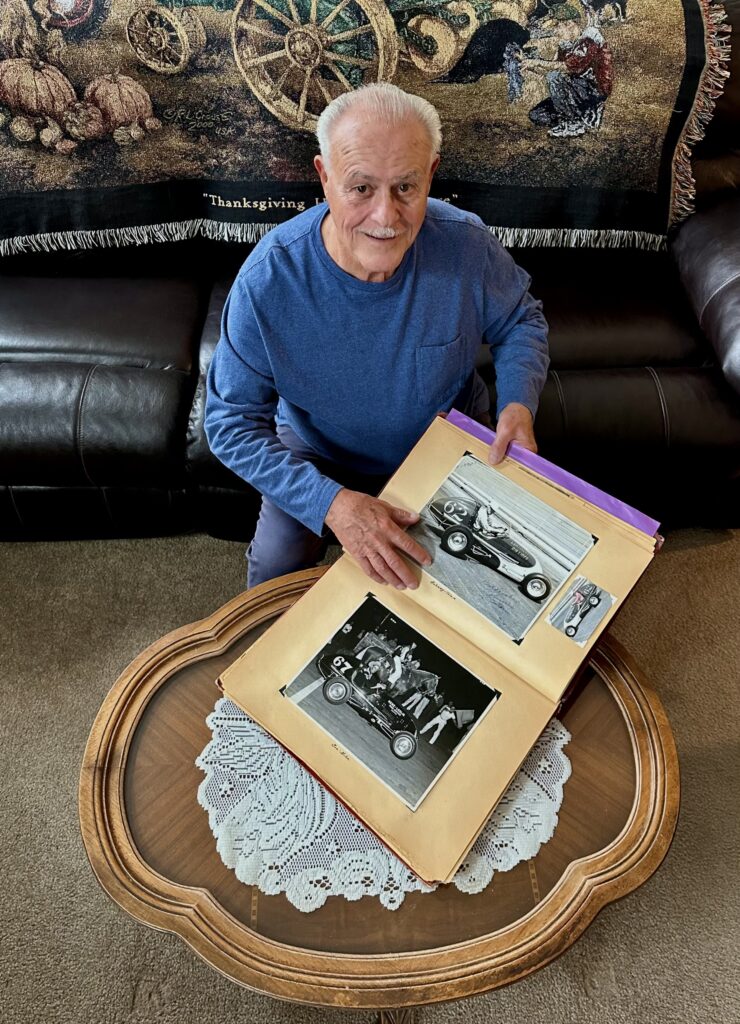 Bob Smith, a friend from Lochbuie, was carrying an old scrapbook when he stopped by our home in Greeley. Smith, whom I've written about previously, is the former longtime, highly successful wrestling coach at Wray High School.
His scrapbook was more like a large photo album in which he had dozens of pictures and newspaper clippings from Denver midget-car racing, a fascination of his growing up in the late 1940s and early '50s in north Denver near the Lakeside race track. Jan and I enjoyed turning the pages to the long-ago happenings.
Two weeks later, in an exchange of emails with Jeff Ball, a boyhood friend of my younger brother Kent at Sterling High School more than 60 years ago, we learned some of the racing success of Jeff's father, who lost his life in a crash in Arizona in the early '50s.
Midget car racing at the Lakeside track in Denver was a big attraction in the late 1940s.
Prompted by Smith's and Ball's connections, I remembered a summer morning at Wray, probably around 1949 when I was 12, when I sat down and joined in on an outdoor neighborhood gathering. I listened to a couple of the older boys tell of the races they'd seen the night before in accompanying their parents to Lakeside.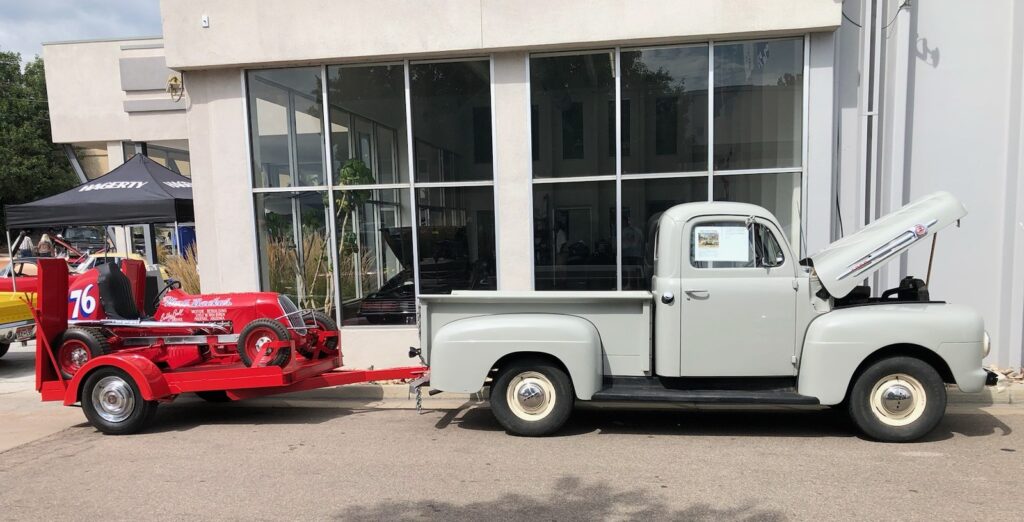 They kept referring to the "Offys" (Offenhauser engines). "They're the fastest," they insisted. My family still owned and operated Dale Wells Ford Garage at Wray, and I quietly remained loyal to the cars powered by V8(60) engines built by Ford, which competed with the 4-cylinder Offenhauser-powered race cars.
Midget racing at the Lakeside Speedway, begun in 1938, was halted for four years during World War II, then resumed in 1946. Bob Smith's scrapbook is filled with photos and writeups of such race drivers as Loyd Axel, Johnnie Tolan and Roy Bowe into the 1950s, until stock cars emerged as main interests.
Bobby Ball, Jeff's father, did some racing at Lakeside in 1949, though his main achievements in midget cars were in California and Arizona. In an 18-race midget series at the Phoenix South Mountain Speedway in 1950, Ball won 14 times and was runnerup in the other four runs. He was winner of the 1950 Western States and Arizona Midget series championships, then finished fifth in the 1951 Indianapolis 500 in the Blakely Oil-sponsored Schroeder Indy roadster.
Ball on Jan. 4, 1953, suffered severe head injuries in an accident at Carrell Speedway in Los Angeles, remained in a coma for 14 months, passing away in February 1954.
Smith and Jeff Ball are included in the chapter, 'My Favorite Car,' of my book, "2,600 Cars and a Dog Sled: Bud Wells' 67 Years in Newspapering and Automobiles," being printed at Morris Publishing at Kearney, Neb. Each cited his first car as 'favorite:' Smith a '36 Ford, Ball a '51 Chevy. Books can be ordered at budwellsbooks.com.
Jeff Ball enjoyed a career in sales and management of automobile and motorcycle dealerships in northern Colorado. As a young man, he owned two Lotus Super Sevens; a series 2 car with which he toured Europe with a brother in winter of 1966. The second was the Twincam. "I set records on road racing tracks and a world record in AHRA drag-racing class for the car; it ran 13.7 seconds at 103 mph in Scottsdale in 1971 and I won SCCA season championship for its class in sanctioned autocross competition four years in a row," Ball said. "I promised my mother when I was 10 years of age that I'd never do professional racing, so amateur racing in the Sevens was gratifying."
Bob Smith graduated from Denver North High School in May 1954, attended University of Northern Colorado (then known as Colorado State College), accepted a position as wrestling coach at Wray High School and directed the Eagles to 30 conference championships in 33 years and 10 state titles. He's been a car collector. As a young teacher in 1960, he helped overhaul the engine in his Model A in the shop at the Ford Garage at Wray.