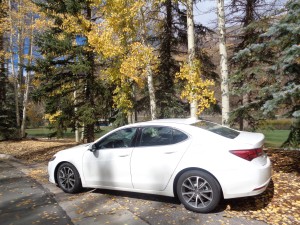 "Happy New Year," I shout from the driver's seat of the 2015 Dodge Charger AWD to readers of my automotive columns.
I opened year 2014 aboard the Nissan Rogue all-wheel-drive compact crossover and ended it this week in the full-sized Charger sedan. In between, I drove 67 other new cars and trucks.
The decision for my favorite car of the year, the 2015 Acura TLX AWD sedan, came to light during a drive to Vail and back. Fashioned so elegantly with a much sleeker design than the two old bodies it replaced, those of the TL and TSX, and with a 9-speed automatic transmission and push-button shifts, the TLX made a hit with me. A 290-horsepower, 3.5-liter V-6 with Sport mode and paddle shifters kept pace, often on the inside fast lane, with no problems on the I-70 climb up the mountains.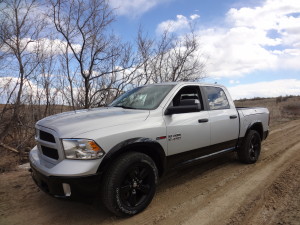 Truck of the year? It is the 2014 Ram 1500 Crew Cab 4X4 with 3.0-liter EcoDiesel V-6 and 8-speed automatic transmission, carrying an EPA highway rating as high as 28 miles per gallon. This one boasts a torque rating of 420 lb.-ft., a standout in the half-ton field. An optional electronically controlled air suspension will, with the push of a button, adjust the height of the pickup.
Other highlights among my automotive drives for 2014:
Weighting game – Ford, on a cold, windy November morning, showed off its new aluminum-bodied F-150 pickup at a parking lot in Broomfield. It is 700 pounds lighter than last year's steel bodies, and time will tell the durability of the new skin. For me, a big impression was the ease with which Ford's little 2.7-liter V-6 engine moved the full-size truck.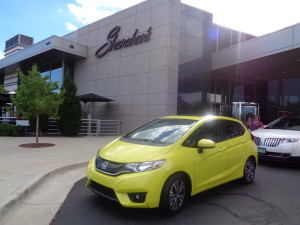 Cheapest – The little 2015 Honda Fit 5-door EX, which carried Jan and me to Shanahan's in southeast Denver on Labor Day weekend to join our kids and their mates for an excellent dinner, at $18,225 (the car, not the dinner). The Fit offers lots of quality for reasonable price. Another cheapie was the Nissan Versa Note at $21,015 with heated seats and rearview camera.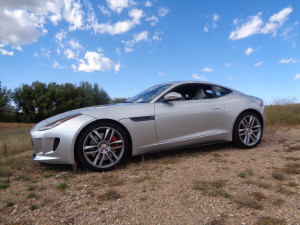 Most expensive – The 2015 Jaguar F-Type R Coupe, with 550-hp supercharged 5.0-liter V-8 and 8-speed automatic transmission, at $102,825, nosed out the 2014 Audi A8L TDI, $99,445 with massaging front seatbacks and Bang & Olufsen advanced sound system.
MPG – 40.1 by 2014 Volkswagen Jetta TDI diesel, 35.6 by the 2014 Nissan Versa Note and 35.1 by the Honda Fit.
Hybrids – 46.4 by the 2014 Ford Fusion Energi plug-in, 38.9 by '14 Honda Accord Hybrid and 38.5 by '15 Toyota Camry Hybrid.
Guzzling – In cold and snow of February, with brief warm-ups on a couple mornings, the 2014 Nissan Titan and its 5.6-liter V-8/5-speed automatic transmission averaged 13.4 mpg.
Most horsepower – 550 from the 5-liter supercharged V-8 in Jaguar's 2015 F-Type R Coupe, which will run 0 to 60 in 4 seconds.
Surprise transaction – Christmas Eve a year ago, it was 100-year-old O'Meara Ford buying a Volkswagen store from Doug Moreland. This time, a week before Christmas, it is John Elway swapping his Chevy store on South Colorado Boulevard for the Don Massey Cadillac dealership in Lone Tree. This gives Elway a luxury marque to go along with his other Chevy store on south Broadway and his Chrysler/Dodge/Jeep/Ram business in Greeley, and Massey, owned by Sonic Automotive Group, lands the Chevy property on South Colorado Blvd., adjacent to Mercedes-Benz and BMW locations, formerly owned by Mark Murray, bought by Sonic in 2013.
Falls flat – An August test of the 2014 Ford C-Max Energi plug-in would have been perfect – a drive to Coors Field in Denver for the Colorado Rockies' retirement of Todd Helton's No. 17 jersey. A flat tire, though, threw a wrench into that. The C-Max has no spare tire, as the car's large battery pack fills the rear area where a spare would normally be stored. In place of a spare, it has a sealant compound in a canister and an air compressor to inflate the tire. The kit can be used only to seal punctures within the tire tread, not in the sidewall. So, Jan's C280 4Matic sedan got us to Denver for the big show.
Extremes – Delivered to me back-to-back last January were the 5,850-pound Infiniti QX80 and the 2,500-pound Nissan Versa Note. Sit them side by side and the little Nissan falls short of the luxury make by 3 ½ feet.
Cold ride – In a 2014 Dodge Durango R/T in February, it was 11 below when we left home, still 11 below with 11 inches of snow when we arrived in Sterling for the funeral of Delbert Davis, an uncle of Jan's.
Warm touch – Heaters beneath the head restraints in the 2014 BMW 435i retractable hardtop convertible blow warm air on the necks of front-seat occupants in cold weather. This feature was introduced several years ago by Mercedes-Benz.
Great catch – Halibut shared with General Motors executives at the Oceanaire Seafood Room two blocks from the Colorado Convention Center on opening night of the Denver Auto Show in April.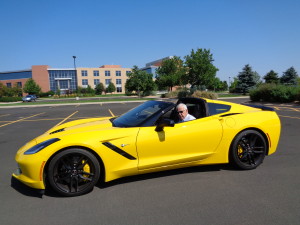 Best color – Velocity yellow tintcoat on the 2014 Corvette C-7 coupe in August.
Best book – "The 100-Year Deal," the 100th anniversary volume published by the Colorado Automobile Dealers Association. It includes a reprint of The Colorado Car Book, which I produced in 1996.
Jan's favorite – The Chrysler 200C AWD.
Best greeting – Happy New Year!